When it comes to England, even summer comes with its spells of rain. Cornwall is blessed with some of the best weather however weather is always unpredictable and hence here are things to do in Cornwall on a rainy day so that not a single day goes to waste!
Cornwall lies at the southernmost point on the mainland of England and is one of my favourite places in all of the U.K!
While to many this may seem like a tall claim, this beautiful section of the country is blessed with some of the best weather in the country, fresh produce and seafood and the prettiest seaside villages.
Not only do you get some of the best fish and chips in the country but also the tastiest Cornish pasties and clotted cream ice-creams can be found here.
The landscape is spectacular with Land's End being just one of the many spectacular things to see; there are also nooks and villages like Cadgwith, the Lizard peninsula and much more to do.
With the weather always unpredictable in the U.K. here's a list of things to do in Cornwall on a rainy day just in case you catch one in summer. At other times, you might get one nevertheless unless you're quite lucky!
---
How to reach Cornwall
By Air. The quickest way to reach Cornwall is by flying into the Cornwall International Airport at Newquay. The airport is located about 30 kilometres from Cornwall and has daily direct flights from several cities in England including London, Leeds and Manchester. You can also fly into Cornwall from various other European countries such as Ireland, Spain, France, Germany, etc.
By Road. Travelling by road – though oftentimes expensive – is always a fun way to have a gala time with friends and family before you even reach a destination! Getting into Cornwall by road is one of the most convenient ways to travel. It takes about 5 hours to get to Cornwall from London. The best route to reach Cornwall by road would be to enter through North Devon, via the A39 Atlantic Highway. The sceneries along the way are breathtaking and are worth exploring en route!
By Rail. Trains are some of the most convenient and hassle-free ways to get into Cornwall. The Great Western Railway runs the route between Cornwall and most cities in the UK. Alternatively, the Night Riviera Sleeper is one of the many high-speed trains that frequently run to Penzance from cities like London, Bath, Bristol and more. Cross Country also has services running from Scotland and Northern England to Penzance. The distance between Penzance and Cornwall is just 45 kilometres and can be covered via bus, taxi or train.
By Bus. Travel via bus or coach is the cheapest way to get into Cornwall. Though direct bus service to Cornwall is not available from other major cities in England, you can hop onto the many buses running the distance between Penzance and London or Birmingham.
Another option is to get on a bus to Newquay and then reach Cornwall. Both Newquay and Penzance are well connected to Cornwall by bus and train. National Express and Megabus are the two most popular bus services for getting into Cornwall.
---
Where to stay in Cornwall
There are many small towns, villages and neighbourhoods dotting the Cornwall region – and each of them has some unique speciality or another, to boast of. The most popular choices for areas to stay in Cornwall include St Ives, Penzance, Newquay and Bodmin amongst many others.
If you're visiting Cornwall for the very first time, consider opting for a country cottage in St Ives. This small town is home to stunning white-sand beaches and is one of the oldest fisherman villages in the region. St Ives is also popular with artists, thanks to its many art galleries and cobbled, narrow alleys.
For those on a budget, Penzance might be a good place to stay in Cornwall. It is famous for its pleasant weather throughout the year. Here, you will also find several museums, forts and other heritage sites for cultural immersion. It is also where we stayed on our first visit. We chose to stay with Classic Cottages in Cornwall and opted for a cottage with sea views.
---
If you're visiting Cornwall for its famous surfing spots, Newquay is the place to be for a whole lot of water sports adventure. Plus, the fish and chips here are to die for, and the nightlife is worth the experience!
Bude is another great place to stay in Cornwall, especially for outdoor enthusiasts. With a stunning coastline and sweeping countryside landscapes, this little village is perfect for hikes and surfing. Bude is also quite a popular choice for wildlife enthusiasts!
---
Things to do in Cornwall on a Rainy Day
Here's what to do in Cornwall irrespective of the weather!
---
Carnglaze Caverns
The Carnglaze Caverns are some of the most unique, all-weather attractions in Cornwall. These caverns are located in Loveny Valley and are a group of underground caverns that once used to be slate quarries during the Industrial Revolution.
A visit to these caverns gives you an insight into how the mining process used to work way back then. The first of these caverns is known as the Rum Store because it was used to store the rum supply by the British Navy during the Second World War!
The last of these caverns have a mesmerising, crystal-blue lake. Since the caverns are underground, they are some of the most perfect things to do in Cornwall on a Rainy Day
---
DETAILS
Address:  Carnglaze Caverns, St Neot, Liskeard PL14 6HQ, UK
Timings: Mon to Sat 10 am to 5 pm (8 pm Aug)
Approximate price: Adults – £8 / Children – £5 / Family 2+2 £22.50
---
---
Adrenalin Quarry Aquapark
An aquapark may not seem like one of the most ideal things to do in Cornwall on a rainy day at first. But if you're going to get wet anyway, why not do it on a rainy day?
The Adrenaline Quarry is a family-run adventure park located in Menheniot. They have a bunch of activities such as go-karting, ziplining and more. But their most fun activities include swimming in the rural quarry, cliff jumping and giant water slides! This is also hands down, one of the best activities in Cornwall to do with kids.
---
DETAILS
Address:  Lower Clicker Road, Menheniot, Near Liskeard, Cornwall PL14 3PJ
Timings: 10 am to 6 pm (Easter through September)
Approximate price: Free entry (tickets to rides and food extra)
---
 St Austell Brewery and Hicks Bar
St Austell is one of the oldest and most popular breweries in Southwest England. After all, what better way to spend a rainy day than to get tipsy on freshly brewed beer, eh!? St Austell was founded in 1851 by Walter Hicks and to this date remains completely family-owned and independent.
Their most popular beer is the Tribute Ale. Dutchy Bitter, Proper Job and Tinner's Ale are also quite in demand. The Tribute Ale was originally launched as Daylight Robbery to pay tribute to the 1999 solar eclipse but became so popular that it was relaunched as Tribute!
Though they have several pubs and inns located across Cornwall, their visitor centre on Trevarthian Road includes a bar, a museum and tours of this Victorian brewery.
---
DETAILS
Address:  63 Trevarthian Road, St. Austell, Cornwall PL25 4BY
Timings: 10 am to 5 pm (Monday to Friday)
Approximate price: Free entry
---
---
Tintagel Old Post Office
The Tintagel Old Post Office boasts a charming medieval building which is reason enough to visit this place. Initially, this building wasn't actually a post office, but in fact, was built as a farmhouse some 600 years ago in 1380.
After serving multiple purposes over the year, this manor came to be a post office for the village only during the 1870s! You can visit this Old Post Office for an hour and soak in its medieval beauty as it pours outside. Booking tickets in advance is advised.
---
DETAILS
Address:  Fore St, Tintagel PL34 0DB, UK
Timings: 10:30 am to 4:30 pm (Closed on Wednesdays and Thursdays)
Approximate price: Adult £5.00 / Child £2.50 / Family (2+2) £12.50 / Family (one adult) £7.50
---
---
Jamaica Inn
Jamaica Inn is a traditional Cornish inn located in Bodmin Moor. This place was initially built in 1750 as a coaching inn but smuggling has also been a significant part of its history.
Jamaica Inn shot to fame when Daphne du Maurier wrote a novel in 1936 with the same name, which subsequently turned into an Alfred Hitchcock movie.
Though parts of the bar and inn still date back to way back with their old-world charm, new wings have been added to the inn with striking new-world contrast.
---
DETAILS
Address:   Bolventor, Launceston PL15 7TS, United Kingdom
Timings: Monday to Saturday 10 am to Midnight, Sunday 12 noon to 10:30 pm
Approximate price: Free entry
---
Pendennis Castle (Kastel Penndinas)
The Pendennis Castle was first constructed in 1539 by Henry VIII. This cliffside fortress commands excellent views of the nearby town of Falmouth. Penn Dinas literally translates to headland fortification in the Cornish language and was built to protect the area from French and Holy Roman invasions.
A visit to this Tudor castle is one of the best things to do in Cornwall on a rainy day. Nothing can get better than a little history lesson while overlooking the dramatic coastline now, can it!?
---
DETAILS
Address: Castle Dr, Falmouth TR11 4LP, United Kingdom
Timings: 10 am to 5 pm
Approximate price: Adult £12.20 / Child (5-17 years) £7.30 / Students and elderly £11.00 / Family (2 adults, up to 3 children) £31.70 / Family (1 adult, up to 3 children) £19.50
---
The Eden Project
Eden Project is an eco-tourism attraction that is known throughout the world. The complex consists of two massive domes, each of which consists of a natural biome.
One is a rainforest and is also titled the largest indoor rainforest in the world, while the other has a Mediterranean environment. Each biome has several plant species typical of their respective climate.
The Eden Project is a calming place to visit and to transport yourself into a whole other dimension, especially as it rains outside.
---
Details
Address:   Bodelva, Cornwall, PL24 2SG
Timings: 9 am to 6 pm
Approximate price: Adult £32.50 / Senior (aged 60+) £30.50 / Student £27.50 / Child (aged 5–16), £10 / Child (aged 0–4) FREE. (Prices may change during peak and off-peak seasons)
---
---
PK Porthcurno Museum of Global Communications
Porthcurno is a coastal village which strong ties to the history of global communications. It was here that the Transatlantic telegraph cables came ashore. In 1998, the museum was founded to pay homage to one of the earliest forms of modern communication.
The museum houses cable ship models, photographs, sample cables and a lot of other telegraphic equipment.
There is also a secret telegraphic bunker from the Second World War which was used by the Allied forces for communication. A tour of the PK Porthcurno Museum is one of the best things to do in Cornwall on a rainy day, especially with kids!
---
DETAILS
Address:  Eastern House, Porthcurno, Penzance TR19 6JX, United Kingdom
Timings: Mid-May to late October 10 am to 5 pm
Approximate price: Adult £9.00 / Children under 18 (under 5 are free) £5.50 / Student £8.00 / Family (2 adults and up to three children under 18) £26.00
---
Lizard Lighthouse
Located at Lizard Point in Cornwall, the Lizard Lighthouse was first built in 1619 by Sir Christopher Dimaline. This lighthouse was often a welcome signal for travellers returning to England and marks the southernmost point in Britain.
The purpose of the lighthouse was to help the vessels passing through the English Channel and on a clear night, the light from this lighthouse could be seen up to 100 miles away!
Today, visitors can van visit the Lizard Lighthouse Heritage Centre which was built in 2009 in the lighthouse engine room. It houses various exhibits portraying the history and importance of this lighthouse.
---
DETAILS
Address:   Lizard Lighthouse, Helston TR12 7NT, UK
Timings:  10 am to 5 pm
Approximate price: Adults £4.50 / Children under 16 £2.50 / Student and Senior Citizen £4.00 / Family (2+2) £12.00
---
---
The Bodmin & Wenford Railway
The Bodmin and Wenford Railway is a heritage railway line running steam engines. This railway line is a part of the Great Western Railway and was first opened in 1887. The Bodmin and Wenford Railway route has four stations, and the entire route is just 10.5 kilometres long and takes 25 minutes to complete.
From the Bodmin Parkway railway station, you can even transfer to the national rail network to continue your journey further. This steam engine train will take you back in time and is definitely one of the best things to do in Cornwall on a rainy day.
---
Bodmin Jail
The Bodmin Jail used to be a large prison located in Bodmin Moor which was built in 1779 and shut down in 1927. Ever since, most of the prison buildings are in ruin but parts of it have been converted into a tourist attraction as well as a hotel!
Since its closing down, there hasn't been a prison in the entire Cornwall county. Visitors can now take guided tours of the former prison and visit its different sections, including the hanging pit where 55 prisoners were hung to death over the prison's 150-year history!
---
DETAILS
Address:   Berrycoombe Road, Bodmin, Cornwall PL31 2NR
Timings:  Sunday to Thursday 9:30 am to 6:30 pm Friday and Saturday 9:30 am to 5 pm
Approximate price: Adult 16+ £15.00 / Child 5-15yrs £12.50 / Students and Senior Citizens £12.50 / Disabled (Incl Carer) £12.50 / Family of 3: Up to 1 Adult £38.00 / Family of 4: Up to 2 adults £52.50
---
The Vale of Avalon and Arthurian Centre
The Vale of Avalon is where the last battle between King Arthur and Mordred occurred. The site has a variety of exhibits and places to see that take you through 1500 years of history!
Some of its prime attractions include Lady Falmouth's Secret Garden – which was a garden built in the 18th century, and only rediscovered in 2005!
There is also a 1500-year-old stone believed to be King Arthur's grave and an archaeological site housing a 750 years old longhouse.
---
DETAILS
Address:  Slaughterbridge, Camelford, Cornwall PL32 9TT
Timings:  10 am to 5 pm May to October
Approximate price: Adults £5.00/ Children, students and seniors £3.00 / Family ticket £14.00
---
---
Things to do in Cornwall on a Rainy Day – FAQs
---
What to do in Cornwall with kids when it rains?
Apart from the already listed attractions like Eden Project, Adrenaline Quarry and Bodmin & Wenford Railway, you can also try out Eureka Escape Rooms, Paradise Park & JungleBarn and Ships & Castles Swimming Pool to keep your little ones engaged when it rains in Cornwall!
What is there to do on a wet day in St Ives?
St Ives is a culture and heritage lover's paradise. When it rains and you cannot enjoy its sandy beaches, try visiting some of the many art galleries and museums located in St Ives. Some of the most popular include Tate St Ives, Leach Pottery Museum and the Blue Bramble Gallery. The BoatHouse Theatre is also worth checking out.
What is there to do in Padstow in the rain?
Padstow is best known for its incredible seafood and wineries throughout the town. If you're caught in Padstow on a rainy day, consider eating and drinking your way through it, at its many eateries, pubs and wine-tasting tours! Some places worth visiting in Padstow are National Lobster Hatchery, Padstow Brewing Company, Cornish Wine Tours and Rick Stein's Cookery School.
What to do in Truro when it's raining?
Truro is Cornwall County's only city and is known for its incredible architectural wonders ranging from Gothic to Georgian styles. After all, what better way is there to spend a rainy day than to marvel at these magnificent historical buildings!? Some noteworthy architectural marvels in Truro include Truro Cathedral, Royal Cornwall Museum and Hall for Cornwall.
Does it rain a lot in Cornwall?
Not all parts of Cornwall receive the same amount of rainfall. Penzance and Newquay typically receive the least amount of rainfall and are known for their brilliantly sunny days. In contrast, higher altitude regions like Bodmin Moor see lower temperatures and a higher amount of rainfall. Coastal areas receive an average amount of annual rainfall of up to 39 inches.
What is the coldest month in Cornwall?
Late January and the entire of February are the coldest periods in Cornwall with temperatures dipping to 5 degrees Celsius. July is usually the hottest month of the year with the mercury touching up to 20 degrees Celsius. December is the wettest month in Cornwall with up to 5 inches of rainfall!
What is the best time to visit Cornwall?
The peak tourist season in Cornwall starts in July and ends in August. The weather is the most pleasant in these two months and the county also sees the highest number of tourists during this time. However, if you like some peace and quiet on your holiday try visiting during June and September.
---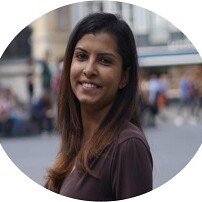 Award-winning Analyst, multi-nominated digital content creator and photographer Lavina Dsouza's words capture stories about culture and tradition mainly through its food and people. She has written and contributed to publications such as The Washington Post, Lonely Planet and Matador Network, to name a few. She is the editor of UntraditionalHumans.com, a non-profit created to share inspiring stories from women of colour who break free from traditions and choose happiness.
She's also a speaker passionate about DEI and champions solo travel. She has collaborated with numerous renowned brands such as Intrepid Travel, TripAdvisor, Travel and Leisure and Adobe, to name a few.
She can be found on Twitter and Instagram.
---
---
EXPLORE MORE OF READY-TO-GO ITINERARIES
---
Some of the links on this post are affiliate links. These do not cost you extra to use, but will help provide Continent Hop with a small commission if/when you purchase through them, to recover some of the costs of running this website and providing free content to help you plan your travel. I appreciate your support!
---