Cancun is frequented by many as it is quite popular with tourists however when planning your trip for an extended weekend, wondering what to do.
You need to spend at least 3 days in Cancun and this Cancun itinerary 3 days has you covered!
---
Accommodation: Best Places in Cancun
Cancun is a haven for incredible beaches and is one of Mexico's most popular places to visit. Its location on the tip of the Yucatan Peninsula gives its beaches a uniqueness that is only found in Cancun! This city is divided into several neighbourhoods but few of them are a hotspot for tourists, with good reason.
Of these, El Centro or Downton Cancun is mainly a residential area that will give you an honest and local feel of what Cancun really is about. Here you will find budget-friendly accommodations and charming lanes to take a stroll in.
El Centro has some great backpacking hostels such as Nomads Hotel Hostel and Hostalito Mexican Hostel. Kabah Boutique Hotel is a good option if you're looking for something luxurious.
Punta Cancun is where the night comes alive. This place has some of the best bars and clubs and all-night parties are very common here. So if you're a party animal looking for an awesome nightlife experience, consider staying here. Grand Fiesta Americana is the place to be in Punta Cancun if you love yourself some luxury. For backpackers and solo travellers, the Mayan Monkey Hostel is a great place to meet new people and explore the nightlife with!
Zona Hotelera is a strip of beach with luxurious hotels and fancy dining options. If money is not a problem and you are ready to spend some big bills for a fabulous vacation, this is the place to go! Royal UNO is a great all-inclusive resort with a dedicated water sports centre and complimentary kayaking and sailing sessions on Nichupté Lagoon. Hard Rock Hotel Cancún is another amazing option in Zona Hotelera.
---
How to Get to Cancun?
By Air. The Cancun International Airport is well-connected to major cities across Asia, Europe and the Americas. Several airlines make regular trips to Cancun International Airport, and it is definitely one of the most convenient ways to get into Cancun.
By Road. Getting into Cancun via buses can be quite efficient and pocket-friendly. There are several bus companies that serve the distance between most nearby Mexican cities and Calle Pino, the bus station at Cancun. Driving into Cancun can be exhilarating given the mesmerising views, but also quite expensive since renting a car is not a very affordable option in Mexico.
By Sea. There are several passenger ships and cruise ships that run between Cancun from the rest of South America, as well as the USA. Though a little heavy on the pocket, this can be a very fun trip to take!
---
How to Get Around in Cancun
Public buses are the most efficient and cost-effective way of getting around Cancun. The city is very well connected via public transport and locals and tourists alike prefer this option more than any other.
Taxis are also easily available throughout the city but are not metered.
Therefore, it is a good idea to agree on a rate before starting the journey. One can also hire a car to explore the city of Cancun, but this can oftentimes be an expensive affair. Moreover, it is important to ensure that the car rented to you is in proper condition to avoid encounters with the traffic police. You could try car rental Cancun to ensure you avoid such issues. Another way to get around is via Cancun shuttle transportation, where you can share the costs with fellow travelers.
---
---
Best Time to Visit Cancun
The winter and spring months between December to April are usually the peak season in Cancun. The weather is as perfect as it gets with pleasant, sunny days making swimming and exploring super fun! However, be prepared to experience a heavy tourist inflow during these months.
The Day of the Dead is also a holiday in autumn that attracts many tourists.
The shoulder months of late April to May and late October to November are also a good time to visit with bearable weather, sparse crowds and much cheaper rates (just like Santorini). The months of June to October usually see heavy rainfall and frequent hurricanes in the Caribbean, making it an absolute no-go.
---
A Cancun Itinerary – 3 days
Here's what to do in Cancun on your 3 day trip
---
Day 1 of your Cancun Itinerary – Cenotes and Playa Delfines
---
Explore the cenotes
If you visit the Yucatan Peninsula and don't go swimming in a cenote, did you even visit the Yucatan Peninsula!? Cenotes are limestone sinkholes that ultimately expose groundwater, and are a perfect spot to swim in.
With fascinating limestone formations around the cenote cave and crystal blue waters, there are thousands of cenotes in the Yucatan.
The nearest cenotes to Cancun are located on the way to the fishing village of Puerto Morales. There are tens of cenotes to choose from on this 20 kilometers stretch which will give you an experience of a lifetime!
---
Playa Delfines
After a full day of finding and jumping into cenotes, the evening needs to be as laid back as possible! Head to Playa Delfines for some sunset beach time. Playa Delfines is one of the most famous beaches of Cancun, and rightfully so.
The beach is a 20 kilometres long strip of soft white sand with shallow waters making it perfect for an evening swim or a quick nap under an umbrella.
---
---
Day 2 of your Cancun Itinerary – Chichen Itza and Mercado 23
---
Chichen Itza
Chichen Itza is a UNESCO World Heritage Site and is now one of the Seven Wonders of the World. It is also one of the most important Mayan sites in the Yucatan Peninsula. Chichen Itza dates back to the Terminal Classic period and was built by the Mayan people.
Throughout its history, the city expanded as several settlements came here, including the Toltec warriors. The city has several monuments such as Akab Dzib, the Temple of the Panels, the Caracol and the Skull Wall or Tzompantli. The grandest of these monuments is the Temple of Kukulkan also known as El Castillo, the magnificent pyramid that you must have surely seen on the world wide web! The city of Chichen Itza and its monuments are known for the cultural blend of Maya and Toltec traditions.
This ancient archaeological site makes for a great day trip from Cancun. Several hotels in Cancun offer day tour packages to this Pre-Hispanic city which include to and fro transportation, a guided tour of Chichen Itza and a lunch for as low as 40 GBP.
But in case package tours are not quite your scene, it is also possible to explore the city by yourself.
A single highway connects the 200 kilometres between Cancun to Chichen Itza. Renting a car can be one of the most convenient and fun ways for this DIY day trip.
However, the car rental, entry fees to the site and other miscellaneous expenses can make this day trip a little heavy on your pocket. For those looking to make this trip on a budget, consider taking the daily bus from Cancun to Chichen Itza which leaves from Puerto Cancun at 8:45 am and returns back to the city at 4:30 pm. This service is offered by the ADO bus company and costs 50 MXN.
---
---
 Mercado 23
The best way to wind down after an exciting trip to Chichen Itza is by getting a local feel of Cancun by visiting one of its local markets. There are several local markets that are quite popular including Mercado 28.
However, if you're looking for a non-touristy experience and want to visit a place where mostly locals hang out, Mercado 23 is the place to go. It isn't very large but has a fantastic street food scene.
There are several stalls strewn across the market selling tacos, empanadas, fruit bowls, tortas, traditional Yucatan dishes and more. One can also shop for cigars and Cerveza or beer, as well as souvenirs like local crafts to take back home.
The best thing about Mercado 23 is that unlike Mercado 28, the prices aren't as inflated and it has a much more authentic feel to it.
---
Day 3 of your Cancun Itinerary – A stunning Mexican island
---
Isla Mujeres
Isla Mujeres is an island located 13 kilometres off the coast of Cancun and is a great way to spend your last day in the city. This island is where the Caribbean Sea and the Gulf of Mexico meet and is home to some of the best water activities in Mexico.
There are ferries running from Cancun to Isla Mujeres every half an hour and the trip takes 30 minutes to complete. In Isla Mujeres, you can either rent a golf cart or a Moped to get around and explore its different parts.
The island is located very close to beautiful coral reefs, which make scuba diving or snorkelling a must-do activity while in Isla Mujeres! The Cancun Underwater Museum of Art is another fascinating place to visit.
This museum consists of hundreds of life-sized sculptures installed to promote coral growth. You can either book snorkel or scuba diving tours here or experience the museum on a glass-bottom boat. Isla Mujeres is also home to some of the finest seafood restaurants so make sure to try one while here!
---
Where to Eat in Cancun
While Cancun is most famous for its azure beaches and its one-of-a-kind nightlife, it also has a great food scene and is home to some of the best restaurants in Mexico.
One of the most popular restaurants in Cancun is Puerto Madero which offers a very expensive fine dining experience by the sea, and is worth every penny spent!
Los Aguachiles is a fantastic option if you're looking to indulge in some seafood, and for a lively local dining experience, consider La Habichuela in Parque de las Palapas. Lastly, the many food trucks in Cancun are a great way to try out local food on a budget!
---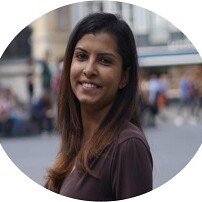 Award-winning Analyst, multi-nominated digital content creator and photographer Lavina Dsouza's words capture stories about culture and tradition mainly through its food and people. She has written and contributed to publications such as The Washington Post, Lonely Planet and Matador Network, to name a few. She is the editor of UntraditionalHumans.com, a non-profit created to share inspiring stories from women of colour who break free from traditions and choose happiness.
She's also a speaker passionate about DEI and champions solo travel. She has collaborated with numerous renowned brands such as Intrepid Travel, TripAdvisor, Travel and Leisure and Adobe, to name a few.
She can be found on Twitter and Instagram.
---
---
EXPLORE MORE READY-TO-GO ITINERARIES
---
Some of the links on this post are affiliate links. These do not cost you extra to use, but will help provide Continent Hop with a small commission if/when you purchase through them, to recover some of the costs of running this website and providing free content to help you plan your travel. I appreciate your support!
---