The biting wind and frigid air of Toronto in winter does not change how warm the city is at its core. So, do not let winter in Toronto stop you from planning your holiday. These interesting things to do in Toronto in winter will make sure you have the best time in the city!
Visiting a new city, especially during extreme weather, can be a pretty daunting experience.
But when you plan a trip to Toronto in the winter, you need to be extra prepared for this Canadian city will welcome you with frigid air, biting wind, and chilly temperatures.
The city is painted all white, thanks to snow, but is still one of the warmer cities in Canada.
From ice skating and sledging to festivals like Winterlicious and Christmas markets, you will find different things to do in Toronto in winter.
The weather does not affect how warm Toronto is at the core and it will surprise you with a plethora of winter activities.
Pack your favourite winter jacket, bundle up nicely, visit the Toronto cafes for a cup of hot chocolate, and you are good to go!
All the places to visit in Toronto in winter will welcome you with bustling energy that will keep cold at bay.
---
Things to do in Toronto in winter
---
---
Toronto in winter weather
---
Winter in Toronto is definitely not the season to expect fairytale snow land.
But, it is also not as harsh as other parts of Canada. Even in January, which is the coldest month of the year, the average minimum temperature may drop to -20° C at night and usually stay below minus during the day as well.
But brace yourself, because it is not about the temperature and numbers. It is about the chilly wind and biting cold weather. No matter how well you layer up, you are going to face (quite literally) frigid air once you step out.
And oh, wait, that's not all! From December to March, Toronto winter experiences most of its snowfall and snowstorms come with little warning.
But do not feel all this information is to discourage you. In fact, even with all the cold and snow, the winter weather in Toronto will let you explore the city to your heart's content.
There are plenty of places to visit in Toronto in winter. All you need to know is how to bundle up correctly and what and when to go for activities.
---
Things to do in Toronto in winter – Historic sites and popular places
---
If you want to capture Toronto's unique history and beautiful nature, you will need at least a couple of days for sightseeing during your visit here. There is no shortage of things to do in Toronto in winter.
Every list of places to visit in Toronto in winter must include CN Tower as this iconic structure marks the Toronto skyline and offers breath-taking views of the city. The revolving restaurant will let you take your taste buds on a ride while soaking in the stunning vistas.
The Royal Ontario Museum (ROM) is Canada's largest museum with more than 10 million unique items inside the venue.
The Hockey Hall of Fame is another must-see place for sports fanatics. You can get a close-up look at many historic jerseys, memorabilia, and artefacts as well as the prestigious NHL trophies. You can even pose with the Stanley Cup and have your picture taken with it.
Ripley's Aquarium of Canada is a treat for kids and adults alike. It is the place where you will get to see more than 450 marine species under one roof. They also arrange dive shows, talk programs, and different events to make it more educational.
The city's Distillery District, one of the oldest parts of Toronto, is another warming place for tourists to check out. It's home to many breweries, restaurants, and theatres. And if you happen to come here during the holiday season, you may wish to check out the Distillery Winter Village.
---
---
DETAILS
Royal Ontario Museum
Address: 100 Queens Park, Toronto, ON M5S 2C6, Canada
Timings: 10 AM – 5.30 PM every day except Mondays. Closed Mondays
Price: Ticket prices can be found here
——
Ripley's Aquarium of Canada
Address: 288 Bremner Blvd, Toronto, ON M5V 3L9, Canada
Timings: 9 AM – 9 PM every day
Price: Ticket prices can be found here
---
Things to do in Toronto in winter – Maple Leafs, Raptors, Blue Jays games
---
If you're a sports fanatic coming to the province of Ontario for a vacation, there won't be a shortage of exciting events to check out during your visit here.
Toronto is one of the world's biggest and most historic sports cities.
It's the only city in Canada that owns an NBA team (the Toronto Raptors) and a Major League Baseball club (the Toronto Blue Jays).
"The 6" is also home to the Toronto Maple Leafs, one of the seven Canadian NHL franchises.
The CFL's Toronto Argonauts and Toronto FC of Major League Soccer are also widely followed teams that tourists may want to see in action during a visit to the city.
The Maple Leafs and Raptors are in the midst of their respective 2022-23 seasons and will play into at least the month of April.
Checking the schedule and attending a game is one of the things to do in Toronto in December.
If you are visiting Toronto later, then the Blue Jays' 2023 home opener will take place against the Detroit Tigers on Apr. 11, and their regular season runs through Oct. 1.
So if you happen to be in Toronto during early to mid-April, you could see two or three major sporting events during your stay there.
---
---
Toronto in the winter has a lot to offer when it comes to outdoor activities as well. This includes fishing, water skiing, swimming in the many cities around the city as well as hiking and cycling through places like High Park, Sunnybrook Park, and E.T. Seton Park.
If it is a cold, dreary day and you'd rather stay in for a while yet still indulge in sports, fans visiting Toronto should also know that sports betting launched in the province in April of last year. You'll find all info for Ontario Casino apps here.
Customers can place wagers in person or through mobile devices. Through the latter, there's also the chance to play your favourite casino games such as roulette, poker, blackjack, and slots.
---
Things to do in Toronto in winter – Shopping and restaurant-hopping
---
Toronto is the place where the warmth of food and shops will keep winter cold at bay. Shopping and eating are two of the much-needed winter activities Toronto that will make your vacation worthwhile.
The first stop of your food journey should be St. Lawrence Market. Even if you are visiting Toronto in December when it's cold everywhere, this is the place that will welcome you with mouth-watering fragrances.
CF Toronto Eaton Centre can be one of the necessary places to visit in Toronto in winter. It is the best place to take refuge from biting Toronto cold and shop around.
You can also consider adding Yorkdale Shopping Centre to your Toronto itinerary as it is the third-largest shopping mall in Canada.
Kensington Market is one of the places for your winter Toronto plan if you are a vintage shopper. You will find plenty of artefacts and shops where you can splurge to your heart's content.
You will also find several cafes, bars, and restaurants where everything from street food to international cuisine is prepared.
You can head to Queen Street West as this area is full of trendy little shops and bustling bars.
---
Ripley's Aquarium of Canada
Address: 93 Front St E, Toronto, ON M5E 1C3, Canada
Timings: 9 AM – 7 PM Tuesday to Friday, 7 AM – 5 PM Saturday, 10 AM – 5 PM Sunday, Closed Mondays
Price: Entry Free
---
---
Things to do in Toronto in winter – The famous Niagara Falls
---
Planning a visit to one of North America's most famous and widely visited scenic sites, Niagara Falls is one of the top things to do in winter Ontario.
This place, which attracts millions of visitors every year, consists of three waterfalls: The Horseshoe Falls, the Bridal Veil Falls, and the American Falls.
Depending on the timing, the driving from Toronto to Niagara Falls is usually under two hours, making it one of the best places to visit near Toronto in winter.
If you want an extended look at the breathtaking falls, you can stay in one of the many surrounding hotels or resorts.
Some of the top places around Niagara Falls for visitors to look at include the Hilton Niagara Falls/Fallsview Hotel & Suites, the Sheraton Fallsview Hotel, and the Embassy Suites by Hilton Niagara Falls Fallsview.
---
Niagara Falls
Address: Niagara Falls, NY 14303, United States
Timings: State Park is open 24 hours, visitor centre – sunrise till 8 PM Sunday to Thursday, and sunrise to 10 PM on Fridays and Saturday
Price: Ticket prices can be found here
---
How to get around Toronto
Exploring Toronto by using public transport is convenient.
TTC is the Toronto Transit Commission that operates the subway, bus, and streetcar along with paratransit services. The single fare for adults is $3.25 and $2.30 for senior citizens and youth groups.
You can also consider buying a PRESTO card that allows you to pay as you go.
If you are experienced in navigating through crowded public transport, then this is the ideal option for you. You can learn more about the routes and schedules of TTC to make travelling easier.
You can also consider driving or taking a cab. But both options are time-consuming and often expensive.
Check the option of bikeshare – a convenient option that allows you to rent a bike even for 30 minutes. It will be easier to explore different places to visit in Toronto in winter.
There are hundreds of stations all over Toronto from you can rent a bike and return it to a station near your destination.
---
Where to stay in Toronto
It is recommended to stay in or around Downtown Toronto as it is well-connected with the rest of the city and is in proximity to several top attractions.
It will be easier to book a place here to explore different things to do in winter in Toronto.
No matter what your budget is, you will find everything from shared accommodation to a luxury resort. Here are a few suggestions –
Jacob22 B&B is known for its great location as it is only 1.5 kilometres from the centre. It is a perfect option for budget travellers as some of the units are equipped with a kitchen.
The Novotel Toronto Centre is for those looking for mid-range hotels in Toronto.
The Ritz-Carlton is situated in the heart of Toronto and comes with a complimentary indoor saltwater pool, hot tub and sauna.
---
---
Events and festivals in Toronto in winter
Christmas light festivals – Toronto in December is marked by several elaborate light festivals. From the famous winter light show at Ontario Place to the lantern festival at Woodside Square Mall, you will find plenty of options to choose from.
Walking around in the twinkling glow of lights is one of the best things to do in December in Toronto.
Toronto Tango Marathon – This is your chance to enjoy three days full of enthusiastic dancing, musical beats, and scrumptious food to accompany it all. So, check the dates of this festival for exciting things to do in Toronto this winter.
Winterlicious – Toronto's very own winter food festival will take your taste buds on a ride and that too to different corners of the world. Participating in this festival with your forks and knives ready is among the top things to do in Toronto in the winter.
More than 200 local restaurants participate in Winterlicious and celebrate with their diverse culinary menus and dishes.
---
---
So, start packing your winter jackets and trendy scarves because you are going to need them the most when you are enjoying these things to do in Toronto in winter.
Remember to click photos in the twinkling Christmas lights for your Instagram and make sure to share the places where you found the best hot chocolate in Toronto!
---
Things to do in Toronto in winter – FAQs
Is it worth visiting Toronto in the winter?
From Christma markets and winter festivals to sledging and ice skating, you will find numerous things to do in Toronto in winter.
It is worth visiting Toronto in winter as it will give you a chance to experience an entirely different version of this Canadian city where even biting cold cannot stop you from enjoying your vacation.
What to do in Toronto on winter break?
You can visit the Toronto Light Festival at the Distillery, go ice skating at one of the several rinks, enjoy sledging at Riverdale Park, attend the famous Winterlicious food festival, take a walk through snowy Glen Stewart Ravine, and plan a road trip to Niagara Falls. There are plenty of winter activities in Toronto on winter break.
What should I not miss in Toronto?
Some of the most popular things and places to not miss in Toronto are CN Tower, Royal Ontario Museum, Casa Loma, Ripley's Aquarium of Canada, Kensington Market, Hockey Hall of Fame, Bata Shoe Museum, and High Park.
Is Toronto very cold in winter?
Yes, Toronto in winter is known for its biting winds and occasional snow storms. Even though Toronto is one of the warmer cities in Canada, that does not stop the temperature from dropping below minus on several days in winter. Most of the snowfall is expected from December to March.
---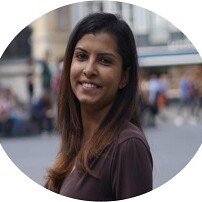 Award-winning Analyst, multi-nominated digital content creator and photographer Lavina Dsouza's words capture stories about culture and tradition mainly through its food and people. She has written and contributed to publications such as The Washington Post, Lonely Planet and Matador Network, to name a few. She is the editor of UntraditionalHumans.com, a non-profit created to share inspiring stories from women of colour who break free from traditions and choose happiness.
She's also a speaker passionate about DEI and champions solo travel. She has collaborated with numerous renowned brands such as Intrepid Travel, TripAdvisor, Travel and Leisure and Adobe, to name a few.
She can be found on Twitter and Instagram.
---
---
EXPLORE MORE OF NORTH AMERICA
---
Some of the links on this post are affiliate links. These do not cost you extra to use, but will help provide Continent Hop with a small commission if/when you purchase through them, to recover some of the costs of running this website and providing free content to help you plan your travel. I appreciate your support!
---