Opps for landscape photography  Iceland are aplenty! Every location has numerous angles that make for stunning pictures during every season. While the northern Lights are every photographer's dream there are enough other scenes to explore and these Iceland photography tips should help!
It was quite chilly as we sat huddled by the car ensuring the camera was stable on the tripod and the wind wouldn't topple it.
The Northern Lights appeared like witchy wisps and disappeared but were quite frequent.
It was our first evening in Iceland and we were taken by surprise at the appearance of the lights on our very first day. As we continued on our Iceland tour, we realised that if you visited Iceland during the right season, you had a higher chance of seeing them.
However, the lights were just one aspect of Iceland. Iceland was an absolute dream, a once-in-a-lifetime opp for many as no matter where we turned the landscape was stunning, thus providing ample opps for landscape photography Iceland.
If you're looking to take pictures when visiting Iceland for the first time, this simple guide should help.
---
Landscape Photography Iceland Tips
---
Best Iceland photography locations
---
Iceland is undoubtedly one of the most beautiful places on earth. This land of fire and ice is almost untouched and incredibly stunning even with all the tourists that visit it every year.
Lavishly graced by natural vegetation, amazing landscapes, lagoons, rich wildlife, waterfalls and serenity, Iceland is a destination full of opportunities for photographers waiting to try their hands at landscape photography.
So, if you're keen to explore landscape photography Iceland keep in mind that planning is key when it comes to visiting Iceland when it is high season, in summer. Even if it isn't, winters can be unpredictable and planning always helps.
It also helps to hire a rental car in Iceland and drive around as planning to get to such locations may be expensive via cab or day trips.
Here are a few places in Iceland that are worth capturing:
Diamond Beach- This 18 km long beach is located on the Breidamerkurjokull glacial plain. The dark streaks of sand amidst the diamond-like structures along the coast are worth capturing for reasons more than Instagram!

This location is one of the best for landscape photography Iceland as just a short walk away you'll also find the Jokulsarlon Glacier Lagoon. The 'diamonds' on the beach are actually shards of ice that drift away from the lagoon.
Seljalandsfoss Waterfall- Though there are ample other waterfalls in Iceland, Seljalandsfoss is special. Dropping from a height of 60 m, it gives photographers opportunities to capture the waterfall from different angles.

The waterfall looks quite different during the different seasons, making most photographs unique.

Solheimasandur- While it may seem like a barren landscape area, a plane crashed here in 1973, a short distance from the Reynisfjara black sand beach. It is one of the most unique landscape photography locations in Iceland.

Reynisfjara Beach- The gushing sea waves, black sand and the Reynisdrangar sea stacks make Reynisfjara one of the many locations in Iceland that are extraordinary. There are numerous spots to capture this landscape photography Iceland spot.

While the beach is an obvious choice, Dyrholaey Lighthouse is another unfrequented spot that is absolutely perfect to capture this spot.

Stampahraun Lava Field- At the foot of the Langjokull glacier, the Stampahraun Lava field is a black basalt land filled with dunes and peaks. Located quite close to Reykjavik, this is a good location to explore and capture if you have only a few days to spend in Iceland.

Vatnajokull Glacier- Iceland is a land of mystery and also the one with the most scenic glacial landscapes. Vatnajokull is Europe's largest glacier and one that you should have on your Iceland itinerary. Located inside the Vatnajokull National Park, it covers 10 volcanoes in Iceland, 2 of which are active!
---
---
Iceland photography tips
Iceland is one of those destinations where you'll find stunning landscape photography spots almost everywhere you turn.
While summers here can be pleasant, weather can be unpredictable at times, and hence it is necessary to be prepared with the right settings, gear and equipment so that you have all you need no matter which location you end at and no matter what you'd like to capture: be it the northern lights, waterfalls or glaciers.
Here's a guide of Iceland photography tips you must consider before heading to Iceland.
---
Tips on what to carry for landscape photography Iceland
To ensure you have the items you need for your photography trip to Iceland
---
A good camera

If Iceland was on your photography bucket list for a long while it deserves the best camera you can manage. You will thank yourself for picking the best ones as you take a look at the pictures you capture once you return from your trip.

If you are planning to purchase a new one, make sure it's water-resistant, not too heavy and has a long battery life.

Wide-angle Lenses

Wide-angle lenses with a shorter focal length than the standard lenses, will help you capture most of the elements within a vast landscape. No matter the landscape A wide-angle lens will capture as much as your eyes witness.
A tripod

For shooting landscapes and panoramic views, time-lapse frames, or slow shutter speed images, the tripod will be your best companion especially if you're travelling solo.

A tripod is essential in landscape photography because it makes taking pictures with longer lenses more comfortable. A tripod brings more stability to the camera and increases the quality of your images, especially when you're keen to capture images that are dark.
A polarizer

The polarizer is a photography filter you can use with your camera lenses to reduce reflection and haze when in bright light.

A polarizer changes the colour saturation in the images and enhances the rendering of a landscape scene while you shoot. The polarizing lens will help you, mainly when you shoot skies, seas and waterfalls.
Extras

Carrying extra sets of batteries is essential. Remember, some of the most eye-catching shots come at the cost of patience. And batteries are one of the most important accessories as when it's cold, they tend to drain faster.

The last thing you want when shooting landscape photography is to find you don't have enough power to take all the pictures you need!

You may also want to carry an extra hard drive or memory cards if you think you'll need them on your landscape photography trip to Iceland.
The camera essentials

A landscape photographer should always expect climatic changes, surprises and even unexpected critical changes on the field. Preparing for landscape photography in Iceland may include carrying a lens cloth, waterproof camera bags, equipment and essentials to keep your camera clean from water, dust, scratches, etc.
---
---
What to study before heading off on a landscape photography Iceland trip
The manual

Studying the camera manual is very much needed for every photographer. It helps you understand your camera and hence its full potential.

Knowing all the settings and features can help you save time and have a smooth & enriching landscape photography experience in Iceland.
Courses

If you are keen on making your landscape photography Iceland experience fulfilling, this tip is for you.

It is a good idea to learn the art of landscape photography from scratch. If you are already a pro, you can maybe sharpen your skills for Iceland if you feel you need to.

There are several online and offline workshops and short courses on landscape photography. Lola Akinmade has a few for advanced consultations. This can help you quickly learn the secrets behind some fantastic snaps that you can try yourself on your trip to Iceland.
Geography

Researching the geography, the climate therein, its wildlife, specialities, etc., can give you a fair idea of what could be shot and when. Landscape photography can be done best in Iceland if attempted correctly.

Keep an eye on the timings of sunrises and sunsets, the intensity of unusual climatic conditions, etc.

These details will help you capture the best landscapes at their best form. It is also necessary to understand that landscape photography tours in Iceland are more about patience and detailed exploration of selected areas rather than moving from one place to another throughout your trip. Keep the pace easy, selective, and qualitative.
---
Camera settings and when to implement them
The basics – Experts believe that landscape photography must be shot RAW. The RAW file in photography is simply the one with all the uncompressed data of an image. Shooting RAW can give you the most detailed and best-quality images.

It is to be noted that RAW images take up significantly more space than JPEGs on your memory card.
The mode- It is recommended to use manual mode especially if there's less light. But in most landscape photography cases, you will need to use the aperture priority mode. With this mode in action, the lighting conditions on the landscape will be measured by the camera's light meter. Accordingly, the camera will select a suitable shutter speed for a perfect shot.
The aperture setting- Depending on how far an object you wish to capture is, the aperture or the f spot varies.

You will need narrow apertures for landscape photography because it allows less light to enter your camera, making you use longer shutter speeds. This, in turn, helps you to shoot a scene in detail and achieve excellent depth in your image. You will need to set the range of f/8 to f/11 up to f/16.
Filters – Investing in good filters helps take better pictures in most cases. Here's a list of some crucial filters you must consider investing in for Iceland photography.
Solid Neutral Density Filters- This light-modifying filter works without changing the actual colours. Only the necessary amount of light reaches the camera sensor, giving you a chance to shoot at longer shutter speeds and higher apertures. This filter is meant to be used in bright lighting conditions.
Light pollution Filters- This filter is recommended to be used if you need to shoot during the night, especially for astrophotography. This filter is also the best to filter out artificial lighting, if any.
Graduated Neutral Density Filters- These filters have a gradient, they're darker at the top and lighter toward the middle. When some areas of the landscape are overexposed to light from the top, these filters help you to balance the lighting and have the perfect image.
Reverse Graduated Neutral Density Filters- These filters are the opposite of graduated neutral density filters. These are lighter at the top and darker toward the middle. These filters function similarly to GND filters and help balance the lighting at the lower half of the landscape frame.
---
---
The focal point- The right focal point is essential in landscape photography. Especially in Iceland, where there are very few objects or humans, photography is more about the foreground and the subject matter.

While shooting at a wide angle, the focus point should be about 1/3rd of the way from the bottom of the frame. If you are shooting with a telephoto lens, you need to choose the most eye-catchy element of your frame as your focal point.
Light – The quality and quantity of light-matter the most in landscape photography. The quality of light is basically how harsh the sunlight is and whether or not it is suitable.

A study of the light hours of particular geography that are right for landscape photography is essential. It would help if you considered the direction of light and how you could use it for your benefit concerning its intensity (especially at sunrise and sunset).

Apart from that, please do not underestimate the beauty of reflected light, backlight, and overcast light, for it has the potential to give you the most incredible and stunning landscape photographs in Iceland.
The weather- Different weather conditions like storms, rains, snow, and bright sun contribute to different shades of beauty in landscape photography. As a landscape photographer, it is all about what conditions attract you the most. While crowded clouds might appeal to some, watch out for the crystals of snow too, they might surprise you.

Shooting in different climatic conditions is more about balancing the light and other camera features with the best sense of logic and creativity.
Photography is an art; no art is complete without experimenting with literary techniques. While nature's kind, and you are patient, experiments are fruitful in Iceland photography. Know the best time to photograph Iceland, and you should be set for your photography experiments in Iceland.
---
---
Things to keep in mind for your landscape photography Iceland trip
Landscape photography isn't an easy game. But if you are passionate, it's all worth it. Modern-day photography is more about technology rather than skill, but photography is all about one's creativity. One of the essential Iceland photography tips is to focus on having a good time and being patient for the perfect shot.

However, in the rare case that even after quite the effort you do not capture a satisfactory image, editing software can come to your rescue if you have used the right lighting conditions.
Landscape photography Iceland is a lot of fun however it is necessary to study the weather forecast each day and understand the seriousness of anything that is mentioned as dangerous or prohibited. Staying safe should always be the priority
It is recommended you carry an Iceland photography map along and not rely on digital maps, for you may run out of power or internet. Having a physical map can be a game changer
It is recommended not to shoot during extreme climatic conditions or while walking, climbing and running unless you have a GoPro or something similar.

Also, do not let yourself fall into any unsafe situations when it comes to photographing in areas that have wildlife around. Carry a first aid kit while in Iceland for landscape photography. Practising situational awareness can be helpful but being prepared for the unexpected is the best.

It is also recommended to carry with you the medications you may need for headaches, allergies, blood saturation, cough, shortness of breath, etc.
Always respect nature and wildlife. Make sure you do not litter your surroundings or hurt the privacy and safety of the outdoors in any way.
It is always a good idea to have a travel partner on your landscape photography tour in Iceland. Having good company adds to the fun and helps in case of emergencies.
Ensure you carry your extra clothing, snacks, water and other necessary accessories
---
---
Best time to visit Iceland for photography
The best time to visit Iceland for landscape photography is from August to October, when the climate is at its best, full of vibrant colours and brilliant lighting.
During this time, the days are longer, the mountain tops are snowy, and there's also a chance to view the Northern Lights.
However, Iceland has ample opportunities no matter the season which makes it a destination you have to visit if possible at least once every season so you can see the difference for yourself!
---
Landscape photography Iceland tips – frequently asked questions
Is Iceland good for landscape photography?
Iceland is one of the most stunning places on earth with quite a varied landscape, making it one of the best countries for landscape photography
Is a waterproof camera necessary for Iceland photography?
Well, it might not be necessary, but it's recommended. It is a good idea to be prepared if the weather turns rough
What is the golden hour in landscape photography?
The first hour after sunrise and the last hour before sunset is called the golden hour. It has the best intensity and quality of light suitable for landscape photography
---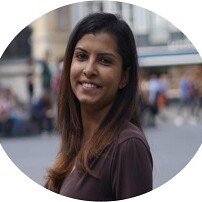 Award-winning Analyst, multi-nominated digital content creator and photographer Lavina Dsouza's words capture stories about culture and tradition mainly through its food and people. She has written and contributed to publications such as The Washington Post, Lonely Planet and Matador Network, to name a few. She is the editor of UntraditionalHumans.com, a non-profit created to share inspiring stories from women of colour who break free from traditions and choose happiness.
She's also a speaker passionate about DEI and champions solo travel. She has collaborated with numerous renowned brands such as Intrepid Travel, TripAdvisor, Travel and Leisure and Adobe, to name a few.
She can be found on Twitter and Instagram.
---
---
---
Some of the links on this post are affiliate links. These do not cost you extra to use, but will help provide Continent Hop with a small commission if/when you purchase through them, to recover some of the costs of running this website and providing free content to help you plan your travel. I appreciate your support!
---