Many believe Europe is perfect for hopping countries but forget that the Middle East and Africa can be too, depending on visa requirements and distance. Read on to know how to have a great road trip and visit 2 favorite destinations in the Middle-East; Dubai and Oman and for details on how to get from Dubai to Oman by road.
You don't need to choose to be a beach or mountain person in Oman. Desert, beach, mountains, fjords – there's everything in Oman (quite similar to Morocco!)
Oman, known for its forts, wadis, beaches and magnificent Musandam fjords, is a popular road trip destination for Emiratis. For international travellers who visit the UAE, Oman is a must-visit for its history, natural beauty and peace.
Dubai to Oman distance by road is 545 km.
Muscat to Dubai distance by road is 452-472 km away from Dubai, depending on your route. Dubai to Muscat by car should take around 5 hours.
The Dubai to Muscat road trip can take 6-7 hours depending on the stops you take, traffic in Dubai and queues at the border crossings. Some travellers have reported spending an hour or more at the border due to long queues, but this is likely only during weekends or festivals.
---
Dubai to Oman by Road
---
Dubai to Oman by Car
---
If you are travelling by car, there are three routes you can take –
i) Wadi Hatta Al Wajajah
Entering the country via the Hatta Border post is the most common route for tourists travelling from UAE to Oman by road.
Ensure not to drive to Al Madam to cross into Oman as this post is only open for GCC residents. Instead, take the E102 route to reach the Hatta Border – add the Dubai Custom as a stop in your navigation app between your destination to Oman to ensure you don't take the wrong route.
The Hatta Border post is a kilometre away from the Dubai Custom.
ii) Meyzad – Hafeet border  
If you plan to start your Oman itinerary with Jebel Shams, Nizwa or other places in Central/South Oman, then take the route through E22 (from Abu Dhabi)/E66 from Dubai) to reach the Meyzad Border.
You'll pass through Al-Ain, the garden city if you take this route. Take this route to travel from UAE to Oman by road if you start from Abu Dhabi, as this border is closer to Abu Dhabi.
iii) Khatm Al Shiklah border crossing
The border post is also close to Al-Ain. The difference between this crossing and the Meyzad one is that once you are stamped out of UAE, the Oman border post is about 30 km away. So this route can be confusing for those travelling for the first time from UAE to Oman by road.
This border post is less commonly used for travelling from Dubai to Oman by car. So there are shorter queues here if you travel during the weekend or before a festival.
All car companies will not allow taking the car from UAE to Oman by road. So double-check before renting and collect the car's certificate and insurance before your trip.
You can rent cars through companies like Ejarcar, Once Click Drive or Dollar Rental. Better still, find your options from a comparison platform like Discovercars or Final rentals, get in touch with the operator and bargain to get a good deal.
Renting a car for getting around in Oman is a must, as the country is not well connected by public transport other than a few city areas. Rent a 4×4 for Oman only if you plan on off-roading.
---
Except for Dubai, there is no direct bus from other cities in UAE to Oman. You'll have to get to Dubai through bus/metro to take the MWASALAT/RTA or Al-Khanjry bus to get from UAE to Oman by road. Taking the metro/bus is more time consuming than taking a cab but less expensive.
In 2019, RTA, Dubai's transport authority and MWASALAT, Oman's transport authority, started a bus service between Dubai for creating a convenient option for passengers between the two countries. This coach that takes tourists from Dubai to Muscat by road runs three times a day.
The bus has a capacity of 50 passengers and is air-conditioned and WiFi-enabled. The bus will stop at Sohar, where passengers can use the washroom – there is no lavatory on board.
You have to book the tickets from the RTA stand near exit two at Abu Hail Station. There is no option available to book online. You cannot buy the ticket while boarding the bus, so purchase the ticket before the journey.
For travelling from Dubai to Muscat by road, you can take the bus from the following stops –
Abu Hail Bus Station – 7.30am/ 3.30pm/11pm
Airport Terminal 2 – 7.45am/ 3.45pm/ 11.15pm
Rashidiya Bus Station – 8am/4pm/11.30pm
The fare is AED 55 for a one way trip from Dubai to Muscat by road and 90 AED for a two-way trip.
The state-run buses to travel from Dubai to Muscat by road are temporarily unavailable due to Covid-19. You can book your tickets on a privately run bus by Al Khanjry. You cannot book tickets online; you will have to book the ticket from the Al Khanjry office near Dnata, Deira. They do not have a functioning website but respond quickly through their number available on Facebook.
A trip from Dubai to Muscat by road through the Al Khanjry bus will cost 10 AED. A round trip will cost 20 AED. If you're in Oman, they can make a booking through online payment and send you a ticket over Whatsapp/email.
---
Crossing the border: Fee and document requirements
---
To travel from UAE to Oman by road, you need to apply for a tourist visa in advance. You can apply for an Oman E-visa and all it takes is a few minutes to make an application.
Check here to see which visa you need to enter Oman. Apply for the e-visa at least four days before your visit. Visa costs in the range of 5-50 OMR depending on the number of entries in the country and period of stay.
For entry through any of the land borders, you would need –
A copy/electronic copy of the visa

Passport with a minimum of six months of validity

Proof of ownership of the vehicle (Mulkiya/certificate). If it's a rented/borrowed car, you must have a no-objection certificate from the rental company or person you have borrowed the car from

A valid driving license if you are driving

Insurance for the car in UAE and Oman (You can buy insurance from the rental company or a third party insurance provider)
At the UAE border, you'll have to pay an exit fee of AED 35.
You can pay by card. There are ATMs at the crossings, but it's good to carry cash.
Best time for travelling to Oman from UAE by road
---
October to May is suitable to travel from UAE to Oman by road. The humidity levels and temperatures vary, but as long as you skip the scorching hot months between June and August, the country has a warm climate and light showers that make it suitable for travel for most of the year.
December-February (winter) is an excellent time for a Dubai to Oman road trip as the temperature is pleasant in Oman – between 23 °C to 26 °C during the daytime and 13 °C to 17 °C at night.
---
---
---
To get from Oman to Dubai by road, you can either drive or take the MWSALAT/Al-Khanjry bus from Muscat.
If travelling from Muscat, drive to the Hatta Border post to enter the UAE as this would be the shortest route. If you are travelling from Central or South Oman, the Meyzad Border or Khatm Al Shiklah border is better.
You can find car rental options through Discovercars.
You'll need a valid visa and all the documents mentioned above under the 'crossing the border' section for travelling from Oman to UAE by road. GCC residents need not apply for a visa – they only need to present their passports at the border.
Residents of some countries are eligible for a visa on arrival. If you are eligible for neither, you can apply for a tourist visa here. If you are flying into the country, you can also get a visa through the UAE-based airline or even your tour agent.
---
MWASALAT runs three buses a day to Dubai. You can take a bus at 6:20 am/3:20 pm/11:20 pm from the Al Azaiba station. Buy tickets in advance from the Mwasalat – ONTC Office nearby.
The fare is around 6 OMR for a one way trip from Muscat to Dubai by road and 9.5 OMR for a two-way trip.
The MWSALAT buses are not functioning temporarily due to covid. You can travel by Al Khanjry, which runs two buses from Muscat to Dubai every day. Book tickets in advance from their office near Ruwi Bus Station.
For the Muscat-Dubai road trip, they are willing to provide tickets over WhatsApp/email. Contact them on the number available here.
---
Best time for travelling from Oman to Dubai by Road
---
Visit Dubai between November- March as the temperature ranges between moderate to slightly cold during peak winter in December. December-February is the peak season for Dubai, so book in advance if you plan on visiting during this period.
From June to August (summer), the daytime temperature crosses 40°C, which would be too hot and uncomfortable for sightseeing. Visiting Dubai in April- May and September-October is not ideal as well, since daytime temperatures are high – in the range of 34°C to 39°C.
Tips for travelling from UAE to Oman by road and Muscat to Dubai by road
Here are some tips for your road trip :
The Internet can be patchy when you're away from the city. Ensure you have an offline map or GPS that can guide you.

Your luggage will be checked at the border. Do not carry alcohol, pork or any such prohibited items.

Adhere to speed limits and road rules while driving in Oman and UAE. There are heavy fines for flouting them.

Pay attention to taking the right exits on the Oman Highway. They are far apart, and if you miss one, you'll have to drive for long until you reach another exit.

Carry cash so that you have to spend less time at the border crossing.
---
People tend to avoid the Middle-East as they assume it'll be hectic and they won't be able to see much which is far from the truth! Irrespective of the type of travel you opt for, both Dubai and Oman will leave you spellbound and asking for more!
---
Dubai to Oman by road – FAQs
Can UAE residents travel to Oman by road?
Yes, UAE citizens are allowed to travel to Oman by road. The visa policy of Oman permits 6 countries to enter Oman including UAE. So, when traveling from UAE to Oman by road, all you have to do is present your valid passport at any of the checkpoints and you are good to go. You can stay in Oman as long as your passport is valid.
But this rule is applicable only if you have UAE citizenship. If you are residing in the UAE and do not have citizenship, then you will have to apply for an Oman visa and complete all the procedures. In this case, the maximum stay duration is 28 days.
How can I travel from UAE to Oman by car?
The most common route to reach Oman from the UAE by car is via the Hatta border post. This is the nearest post from Dubai as well as Sharjah and will take you to Muscat.
You can start with Dubai-Hatta road E66, then go by Emirates Road E611. You can take the Sharjah- Kalba road E102 after that as it takes you to the Hatta border, Al Wajajah. After that, you can go via Route 1 which will take you to the coastal road leading to Muscat.
Can I enter Oman with a UAE visa?
You will have to apply for Oman GCC Residence e-Visa and you can do that online. Visa on arrival is also available for GCC residents.
You will need a passport that is valid for a minimum of 6 months from the day of your arrival in Oman, a digital photo, and in some cases, a residence permit. It is advisable to check the updated requirements while planning your USE-Oman trip.
Can I take my Dubai car to Oman?
Yes, you can take your Dubai car to Oman while traveling by road. If you are driving your own car, then it is necessary to carry proof of ownership along with valid insurance that covers you specifically while driving into Oman. You will also need an original mulkiya – registration card of the vehicle. Do not carry a photocopy as it is not considered valid.
If you are driving a rental car, then make sure you are allowed by the rental company to take that vehicle into Oman. Not all rentals are flexible and the rules also keep changing. So, it is necessary to confirm with the rental operator before renting a car.
---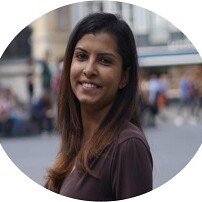 Award-winning Analyst, multi-nominated digital content creator and photographer Lavina Dsouza's words capture stories about culture and tradition mainly through its food and people. She has written and contributed to publications such as The Washington Post, Lonely Planet and Matador Network, to name a few. She is the editor of UntraditionalHumans.com, a non-profit created to share inspiring stories from women of colour who break free from traditions and choose happiness.
She's also a speaker passionate about DEI and champions solo travel. She has collaborated with numerous renowned brands such as Intrepid Travel, TripAdvisor, Travel and Leisure and Adobe, to name a few.
She can be found on Twitter and Instagram.
---
---
EXPLORE MORE OF READY-TO-GO ITINERARIES
---
Some of the links on this post are affiliate links. These do not cost you extra to use, but will help provide Continent Hop with a small commission if/when you purchase through them, to recover some of the costs of running this website and providing free content to help you plan your travel. I appreciate your support!
---