Followers Links to best articles The Canary islands, a small archipelago of Spain near the North of Africa not only have the best climate but also some of the most unique dishes found in Europe. Canarain food is spicy, tasty and also has a decent sprinkling of desserts! Read on to find the top traditional dishes you should eat in the Canary islands!
Do you love adventure? What about when it comes to your meals?
One of the best parts of travelling the world is surely experiencing all the incredible food that different places have to offer. Every culture has unique and wonderful food to try, each with its own flavour profile – and the Canary Islands are no different.
The Canaries have their own special dishes, that are quite different to the traditional tapas in Spain, that you will struggle to find elsewhere, but where should you start if you want to make sure that you don't miss out on tasting anything?
Here, I've collected five delicious dishes you simply have to try while on holiday in the Canary Islands.
---
Bienmesabe
If you love delicious desserts, then don't skip bienmesabe! It is created using almonds (as well as eggs, lemons and sugar) and creates an incredible flavour.
It is traditionally made in Gran Canaria due to the wealth of almond trees found there, but you can find it on other islands too. The translation of bienmesabe is "it tastes good to me", which just adds to its appeal.
---
Mojo Picón
Do you like your meals a little bit spicy? Then take a leap of faith and test your mettle with mojo picón. This sauce is created by blending garlic and peppers with cumin and olive oil, as well as a little bit of chilli.
This is a saucy side that you will struggle to miss during your time in the Canary Islands, as it is served quite ubiquitously.
You can find handmade jars of mojo picón for sale in the marketplaces of the Canary Islands, but head to the local restaurants to see how real chefs utilise this tasty sauce on a range of dishes.
---
---
Conejo Al Salmorejo
If you want to taste the heart of the Canary Islands in a lighter fashion, then conejo al salmorejo is the choice for you. It is a garlic marinated rabbit meat dish, which is cooked using local white wine.
The rabbit is seasoned richly using herbs and spices such as cumin and paprika, as well as oregano and thyme. A different version, pollo al salmorejo, is created with chicken rather than rabbit.
---
Baifo
Baifo is traditional festive Canarian fare! It translates to "young goat" and is created with marinated goat meat. If you visit during the Christmas season, you are sure to be offered some.
Again, it is heavily seasoned with garlic and local herbs such as bay leaves and thyme. It might be a little different, but it's a tasty tradition that we love!
---
Papas Arrugadas
Did you think you could be excited by potatoes? If not, the Canary Islands will make you a believer. Papas arrugadas are grown on the islands and have a unique flavour profile and wrinkled-skin texture which is created thanks to the climate of these volcanic islands.
The potatoes will be traditionally boiled in their skins with plenty of salt and then served with mojo picón for a really classic taste of island life.
Are you ready to expand your palate? The next time you travel to the Canary Islands, make sure you tick these incredible dishes off your gastronomical adventuring list.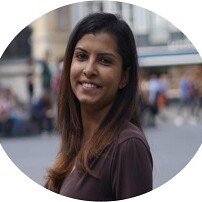 Award-winning Analyst, multi-nominated digital content creator and photographer Lavina Dsouza's words capture stories about culture and tradition mainly through its food and people. She has written and contributed to publications such as The Washington Post, Lonely Planet and Matador Network, to name a few. She is the editor of UntraditionalHumans.com, a non-profit created to share inspiring stories from women of colour who break free from traditions and choose happiness.
She's also a speaker passionate about DEI and champions solo travel. She has collaborated with numerous renowned brands such as Intrepid Travel, TripAdvisor, Travel and Leisure and Adobe, to name a few.
She can be found on Twitter and Instagram.
---
---
EXPLORE MORE TRAVEL INSPIRATION
---
Some of the links on this post are affiliate links. These do not cost you extra to use, but will help provide Continent Hop with a small commission if/when you purchase through them, to recover some of the costs of running this website and providing free content to help you plan your travel. I appreciate your support!
---