Zanzibar present in the Zanzibar Archipelago has numerous islands and stunning beaches! The food and people are welcoming but due to it being in the Southern Hemisphere, many tend to get confused with the weather here. Here's the best time to visit Zanzibar with the best places to go to as well!
Zanzibar Island is an archipelago in the Indian Ocean, a few miles from Dar es Salaam. It comprises several small islands and two large ones – Unguja and Pemba.
Unguja, the largest island, is referred to as Zanzibar Island. The largest capital city on the island is also named Zanzibar City.
Zanzibar has a rich history – over the centuries, it has been under Omani, Portuguese and British control. As a result, Zanzibar's food is unique – it has African, Persian, Indian, British and Chinese influences.
The island used to be a trade hub for spices, clothes, cash crops and slaves! Stone Town, located here, was host to one of the world's largest open slave markets until the British stopped slavery in 1873.
While there may be numerous things to do in Stone Town, the whole island is rich with beautiful landscapes and activities that everyone can indulge in!
---
The biggest issue arises when people don't plan their visit correctly if they don't take into account the weather here.
The best time to visit Zanzibar is when you need a beach holiday. The island is home to many idyllic beaches, rich biodiversity and balmy weather (most of the year), making it an ideal destination for chilling by the beach and lots of water sports.
The best period to visit Zanzibar is from June to October during the dry season. Here's more about the island's weather to help you understand about the best time of year to visit Zanzibar.
---
Visa requirements for Zanzibar
Many assume Zanzibar is an independent nation however Zanzibar is part of Tanzania and many foreign visitors especially from outside of Africa need a visa to visit Tanzania.
This can be obtained via a visit to the embassy of Tanzania closer to you or can even be done electronically wherein the visa gets delivered to your residence.
The visa is a single entry E-visa applicable for 30 days for Tanzania and hence Zanzibar as well.
All you'll need is a valid passport, a digital photo and valid return tickets.
---
Best time to visit Zanzibar
Here's the best time to travel to Zanzibar
---
January – February
January-February is the best time to go to Zanzibar other than the dry season from June-October. The days are sunny, and the sea is clear for scuba diving. January is the hottest month yet the best period to visit Zanzibar.
The temperature ranges from 25°C to, and there is hardly any rain. February is also pretty hot with similar temperatures, but humidity levels start increasing.
---
March
March is not the best month to visit Zanzibar because the weather can be unpredictable, especially during the second half.
Consider visiting in the first half as the long rains begin in the second half of the month. If you come here in the second half of March though, you can get a discount on accommodation as it's so close to the time some hotels will close for the long rainy period.
---
April- May – Long Rains
April-May is the primary rainy season – heavy downpours in the afternoons are common. This period is not the best time to go to Zanzibar because you won't enjoy the beaches, and many resorts close temporarily on the island. April is the wettest month, followed by May.
---
---
June – October
June to October is the best time to visit Zanzibar weather-wise because of the moderate temperatures, lack of rainfall and calm seas that are great for diving/snorkelling. This season is the best season for Zanzibar as temperature ranges between 21°C to 29°C.
It can rain a little during October. These are mild showers, though and are unlikely to dampen your plans to indulge in water sports or chill by the beach.
---
November – December – Short Rains
November- December is the period of 'short rains'. This season is not the best to visit Zanzibar due to the rains. November receives more rainfall than December.
December receives mild showers that become sporadic as the month progresses. It can still be unpredictable when sunny days can turn into storms, but it's likely towards the end of December.
While it's not the best time to visit Zanzibar, spending Christmas and New Year's Eve is still popular amongst tourists.
---
Month               Average Temperatures (Low-High in °C)
January                  24 – 32 | Hot, dry season | Humid and high temperature, not the best period to visit
February                24 – 33 | Hot, dry season | Humid and high temperature, not the best period to visit
March                    24 – 32 | Hot, dry season | Humid and high temperature, not the best period to visit, Second half of March – heavy rains may begin
April                      25 – 31 | Long rains | Not ideal due to heavy rains
May                      24 – 30 | Long rains | Not ideal due to heavy rains
June                     23 – 29 | Cool, dry season | Best time to visit Zanzibar
July                      22 – 29 | Cool, dry season | Best time to visit Zanzibar
August                 21 – 29 | Cool, dry season | Best time to visit Zanzibar
September           21 – 30 | Cool, dry season | Best time to visit Zanzibar
October               22 – 31 | Cool, dry season | Best time to visit Zanzibar
November           23 – 31 | Short rains | Not ideal due to rains
December            24 – 32 | Short rains | Not ideal due to rains in the first half, Lesser chances of rain in the second half
---
---
Best things to do in Zanzibar
There are many beaches in Unguja worth exploring. There's Nungwi Beach for the nightlife and Paje Beach for watersports, the serene Pongwe beach for watching a sunset or just spending a day by the beach reading or Kendwa beach to interact with the locals.
You can dive, snorkel, kiteboard, parasail, waterski, or watch the sunset from a Dhow cruise at these beaches.
Other than spending time at beautiful beaches, here are the top things to do in Zanzibar:
Stone Town: Anglican Cathedral of Christ Church, Saint Joseph's Roman Catholic Cathedral, the mosque of Malindi Bamnara, Hamamni Persian baths, Old Fort, Freddie Mercury Museum, Spice tours and delicious street food at the Forodhani Garden's nightly food market

Jozani Chwaka Bay National Park: The Jozani Chwaka Bay National Park is home to many endangered bird, fish and plant species. It is also home to the Zanzibar red colobus monkey, an endangered endemic animal.

The park has a trail that needs about 45 minutes. You can walk through the park to spot the wildlife, birds and red colobus monkeys.

The park is open from 7.30 am to 5 pm every day
---
---
Cheetah's Rock Sanctuary : Cheetah's Rock is a wildlife rescue and conservation centre where you can take a tour to touch and feed a cheetah and lion, feed lemurs and interact with other wild animals.

The wildlife tour is available on Tuesday, Wednesday, Thursday and Sunday between 2 pm to 6.45 pm. You can also swim with otters between 9.30 to 11.30 am every day (only one slot is available). Pre-book tours from here.

Changu Island: Changu Island, a small island 5.6 km away from Stone Town, has a prison that was used to imprison slaves in 1860.

Changu island's main attraction is the four giant Aldabra tortoises sent here by the British governor of Seychelles in 1919. You can feed and touch the tortoise under supervision.
---
---
Zanzibar is ideal if you're looking to spend 4 -5 days at this beloved archipelago. The weather is pretty much ideal for most of the year and the food is heavenly.
Tanzania is a great destination if you haven't visited Africa before and are looking to get acquainted with the region.
It isn't too overwhelming and will definitely leave you wanting to visit this glorious part of the world over and over!
---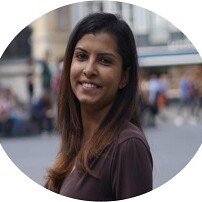 Award-winning Analyst, multi-nominated digital content creator and photographer Lavina Dsouza's words capture stories about culture and tradition mainly through its food and people. She has written and contributed to publications such as The Washington Post, Lonely Planet and Matador Network, to name a few. She is the editor of UntraditionalHumans.com, a non-profit created to share inspiring stories from women of colour who break free from traditions and choose happiness.
She's also a speaker passionate about DEI and champions solo travel. She has collaborated with numerous renowned brands such as Intrepid Travel, TripAdvisor, Travel and Leisure and Adobe, to name a few.
She can be found on Twitter and Instagram.
---
---
EXPLORE MORE READY-TO-GO ITINERARIES
---
Some of the links on this post are affiliate links. These do not cost you extra to use, but will help provide Continent Hop with a small commission if/when you purchase through them, to recover some of the costs of running this website and providing free content to help you plan your travel. I appreciate your support!
---