Kalpitiya, a region in the North Western part of Sri Lanka in Puttalam isn't one on tourists' must-visit lists but is a breathtaking location. This idyllic location, full of palm trees, beaches and a lagoon has much to offer, read on to know about all the nice things to do in Kalpitiya Lagoon!
A few fishermen head out on boats to get back the freshest catch of the day while a kingfisher keeps an eye out for his meal.
A few women get started with the meals of the day while a few others head out to work while others get ready to go kitesurfing in Kalpitiya, the birthplace of kitesurfing in Sri Lanka.
It's a day like any other in Kalpitiya Lagoon, yet the landscape makes it seem special.
Palm trees dot the lagoon while random sandy patches are sprinkled across the land making it one of the most diverse yet activity-filled regions in Sri Lanka.
There are salt pans, dense mangroves, national parks and lots of beaches peppered with history; there isn't a dearth of things to do in Kalpitiya!
---
Things to do in Kalpitiya Lagoon + Places to visit in Kalpitiya
---
---
Although lesser known, Kappalady Beach in the Kalpitiya region is one of the best beaches in Sri Lanka, overlooking the azure waters of the Gulf of Mannar.
Here, you can either spend time relaxing on the beach or have a nice sunbathing session.
For those who're looking for a bit of adventure, there are some great scuba diving and snorkelling opportunities available near Kappalady Beach.
The marine life here is abundantly rich and some of the animals you can spot here include sea turtles, sting rays and reef sharks, some of the most marvellous things to see in Kalpitiya.
Stroll along the Kappalady beach to witness one of the most magical sunsets you will ever see!
---
DETAILS

Kappalady Beach
Kitesurfing Centre
Address: Elements Beach & Nature Resort, Kappalady, Talawila, Sri Lanka
Cost: 50 Euros per hour
---
---
---
The Kappalady Lagoon is one of the most well-known areas to visit in the Kalpitiya region. This shallow lagoon is known to be a hub of activities for adventure lovers and also for those looking for a relaxing time in nature.
For adventure enthusiasts, this is the place to go for kitesurfing and windsurfing.
Kappalady Lagoon is known all around the world for its water sports scene. Regardless of whether you're a pro or someone looking to take their first classes, Kappalady has your back!
If you are someone who would rather spend some quiet time in nature, there are plenty of activities for you as well.
It is marvelous to look at the mangrove forests around some parts of the lagoon that are so essential to life on the planet!
You can even take a boat ride or hop on a kayak through the mangroves and be on the lookout for some beautiful birds endemic to the region, which is definitely one of the best things to see in Kalpitiya, Sri Lanka.
---
---
The Wilpattu National Park is located about 60 kilometres from Kalpitiya, which will take around 2 hours to reach. This national park is one of the oldest and most protected forests in the country.
Wilpattu is home to a number of wildlife species including leopards, elephants, sloth bears, peacocks and spotted deer. Going on a wildlife safari is definitely one of the best things to do in Kalpitiya.
This is also a great spot to go birding, thanks to its 106 rainwater lakes dotting the area. In fact, it is after these very willus (or natural lakes) that the park is named after. Willu-pattu roughly translates to 'Land of Lakes'.
Visitors are not allowed to carry any food or bags on the Gobbins cliff path. There are free lockers to leave your things at the Gobbins visitor center.
---
DETAILS

Wilpattu National Park
Find additional details on the website here
Cost: Safaris start from $65
Timings: 6 AM to 6 PM every day
---
---
---
Kudawa Beach is definitely much quieter and less 'happening' than its neighbour, Kalpitiya Beach and that is, perhaps, what its charm is. On one side is the vast blue ocean, on the other, the shade of a thousand palm trees hanging above.
It's the perfect beach for sunbathing and for swimming. This is the kind of place where you do absolutely nothing – but let your senses run free. Walk along the shore, or perhaps have a picnic by the beach. Its waves also make for some great surfs to catch, if you're into surfing.
---
---
---
As you are perhaps well aware Sri Lanka has had its fair share with European colonists and that is why there is such a strong Dutch and Portuguese influence in the country's history.
The Dutch Fort Kalpitiya is no less and is one of the Kalpitiya attractions not to be missed if you love history. It was built sometime in the 17th century and served as a critical trading point for the Dutch East India Company. This fort is now an important Naval training base and to be able to explore its ruins, you must get permits at the gate and have a Navy personnel accompany you at all times.
It's a beautiful fort built of limestone and corals and only a short visit here will definitely take you back in time!
---
DETAILS

Kalpitiya Dutch Fort
Address: 6QP8+7GG, Kalpitiya, Sri Lanka
Cost: Free
Timings: 8.30 AM – 5.30 PM every day
---
---
---
From Kalpitiya town, on the way to the Dutch Fort is the Dutch Church which is beautiful in its own right and also has a long history behind it. Also known as St Peter's Kerk, this Reformed Church was built in 1706 and is one of the oldest Protestant Churches in all of Sri Lanka!
Irrespective of whether you're religious or not, it is one of the best places to visit in Kalpitiya as you can not only admire the architecture but grab a moment of peace if you've had a busy day!
---
DETAILS

Kalpitiya Dutch Church
Address: Mutuwal street kalpitiya, Sri Lanka
Cost: Free
Timings: 8 AM to 6 PM every day
---
---
The Alankuda Beach in the Kalpitiya peninsula is a recently developed beach for tourism and is still not as popular as other spots around the region.
With just an hour's boat ride off the shore of Alankuda Beach, you can go and spot several dolphins including Spinner, Risso, Humpback and Bottleneck. Not only can you spot a huge number of dolphins in Kalpitiya, but Kalpitiya whale watching such as the Byrde's whales is also possible here!
---
---
---
A Kalpitiya attraction very near to Alankuda Beach is St. Anne's Church in Talawila. It is an ancient 17th-century church located just about 7 kilometres from Alankuda Beach. This is also the site of a massive catholic festival that takes place every year in March and August.
As many as 700,000 pilgrims come to pray here during the festival. There are two stories attributed to the origin of this church – both of which point to a Portuguese trader. This Christian shrine is a beautiful place to go and find some peace.
---
DETAILS

St. Anne's Church Kalpitiya
Address: Talawila Road, Sri Lanka
Cost: Free
Timings: 6 AM to 7 PM Monday to Friday and 6 AM to 8 PM on weekends
---
---
Located off the coast of the Kalpitiya peninsula, over the Puttalam Lagoon is Ambanttativu, a small but picturesque island. The island is located just 2 kilometres from the coast and remains uninhabited to this date.
It is known for its mangrove forests and other important flora and fauna. This tiny V-shaped island is as raw as nature gets.
Though a small speck on the maps, you will be surprised by the richness of biodiversity here, definitely making it one of the best things to see in Kalpitiya Sri Lanka.
---
---
The Puttalam Salt Pans are a mesmerizing, vast expanse of white where a lot of salt is produced for Sri Lanka to consume.
These salt pans near Kalpitiya are to Sri Lanka what the Rann of Kutch is to India and the Uyuni Salt Flats are to Bolivia.
These salt flats take up a large part of the Puttalam Lagoon. On a visit to the Puttalam Salt Pans, one can learn about the various levels of processing salt water must go through, for it to be edible enough to reach our tables. Quite a fascinating journey to learn about.
Not only is this area known for its salt production, but it also houses some very important biodiversity in the salty wetlands that are endemic to this area.
These wetlands are a hub for flora and fauna – with residents as well as migratory birds calling it their home.
---
---
There's much to do in Sri Lanka even if it isn't a large island and Kalpitiya is just one example of this.
If crowds aren't your thing, especially after the pandemic, I urge you to explore regions full of natural beauty and a tonne of fun activities to keep you busy.
Kalpitiya has lots in store and you surely won't be disappointed!
---
---
Things to See in Kalpitiya Sri Lanka – FAQs
---
Is it worth visiting Kalpitiya?
For first-time visitors to Sri Lanka, or those with not enough time on their hands, Kalpitiya may not seem like the most obvious choice.
Kalpitiya is still being developed to be put on the tourist radar so it may also not be the easiest place to visit in Sri Lanka with much fewer accommodation and eating options available around.
Yet, Kalpitiya remains a truly offbeat and pristine destination that you must visit if you have some time on your hands and are looking for offbeat experiences around Sri Lanka.
What is the best time to visit Kalpitiya?
Kalpitiya is more of a year-round place to visit in Sri Lanka, depending on where your interest lies. If you're interested in the world-known kitesurfing in Kalpitiya, then May to September is the right season for that.
For all other purposes, the winter months from November to February is the right time to visit. Dolphin spotting, birdwatching, surfing and swimming are all great during these months.
How to reach Kalpitiya?
Kalpitiya is well connected via public transport to Colombo, the capital city of Sri Lanka. From Colombo, you must first catch one of the several buses heading towards Puttalam. This journey will take about 4 hours to complete.
From Puttalam, hop on one of the many regular or AC buses going to Kalpitiya (just about 25 kilometres away from Puttalam!)
---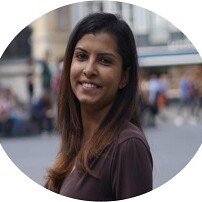 Award-winning Analyst, multi-nominated digital content creator and photographer Lavina Dsouza's words capture stories about culture and tradition mainly through its food and people. She has written and contributed to publications such as The Washington Post, Lonely Planet and Matador Network, to name a few. She is the editor of UntraditionalHumans.com, a non-profit created to share inspiring stories from women of colour who break free from traditions and choose happiness.
She's also a speaker passionate about DEI and champions solo travel. She has collaborated with numerous renowned brands such as Intrepid Travel, TripAdvisor, Travel and Leisure and Adobe, to name a few.
She can be found on Twitter and Instagram.
---
---
EXPLORE MORE READY-TO-GO ITINERARIES
---
Some of the links on this post are affiliate links. These do not cost you extra to use, but will help provide Continent Hop with a small commission if/when you purchase through them, to recover some of the costs of running this website and providing free content to help you plan your travel. I appreciate your support!
---