If you're wondering if you've forgotten packing, worry not! This minimalist packing list will help you get the basics in place before you can move on and get everything else sorted! This one bag travel packing list is especially for the European zone but will work for any location too!
Has the time come when you finally got the chance to get away from all the chaos, noises, pollution, and everything else the daily hustles throw at you?
If so, you're probably thinking of taking a vacation outside the country, or perhaps a road trip sounds a bit more fun.
Well, whichever the case, proper travel planning is the best way to get a memorable experience from your trip – and this includes having a packing list – irrespective of whether its a summer packing list or a winter one!
Regardless of which time of the year you take your trip, here are some travel essentials you shouldn't leave behind.
---
A minimal travel packing list
---
Enough Appropriate Clothing and Shoes
---
When packing a suitcase for the vacation, one of the first things you'll automatically think about is clothing and footwear. However, packing clothes and shoes is not always an easy task.
You can easily overpack and end up paying dearly for it in airport luggage fees. Moreover, heavy luggage during trips can be physically taxing.
You also don't want to pack so light that you miss essentials like underwear or that tie you so much needed for a business meeting.
If your trip will involve camping or your destination is in the cold season, you will want to bring some warm clothing and waterproof shoes. Nonetheless, the main idea is to pack light and pack essentials.
---
Personal Care Items
Personal care items may include anything from a clean towel to toiletries like wet wipes, conditioner, feminine wash, shaver, hairbrush, body wash, and shampoo. While some hotels usually provide some of these items, skincare and hair care items are an absolute must to include in your travel bag.
As can be seen on Aesop's luxe collection of skincare, hair, and beauty products, these may include a hand balm, gel, facial cleanser, facial toner, hair polish, or scalp treatment.
The personal care products to pack will ultimately depend on your specific needs. Of course, you might also want to bring your signature scent to your trip so you can feel and smell fresh throughout.
Whatever you do, NEVER forget to pack a fresh toothbrush and toothpaste!
Documentation
Depending on where you're traveling to, you will probably need one or two documents for a smooth trip. Some of these could include your ID, national security, visa, and driver's license. In the post-Covid-19 era, travel requirements have changed drastically.
You may also need a vaccination and Covid-status certificate when visiting certain countries. Your documents should be stacked in the safest compartment of your suitcase to avoid loss, and you can even consider having digital copies to be safer.
---
Accessories
---
Ties, belts, purses, sunglasses, scarves, and wallets aren't the only accessories you need when traveling. There's a ton of other items that simplify your life during travel and make your trip more fun. If you're taking a long road trip, for instance, a travel pillow would come in handy in making your trip more comfortable, so you experience less fatigue or back pain. Other essential travel accessories to consider packing include:
Noise-canceling headphones

A tablet with your favorite movies

Shoe bag

Phone charger

Power bank

A flash drive or memory stick for essential files

And more!
If you're like most people who find summer the best time to travel, sunscreen should also be among the first things you slip into your suitcase.
You may also need some pain relievers, or bug repellent depending on where you are going and how long the trip will take. While it may not be exhaustive, the above list covers some of the essentials that should never skip your mind when traveling.
---
One of the best tips I can share is that make sure you don't carry more than two/three additional set of clothes to the number of days you're traveling for.
Another tip is to use versatile clothing that you can wear in multiple ways: A good black tee can be used on denims and on skirts, can also be used inside a jumper!
Sit down and write what looks you're going for then tick them off as you place them one by one in your luggage bag and then get your passport ready at the very end to have the best time on your trip!
---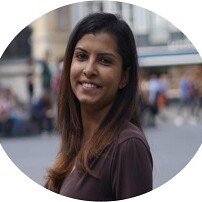 Award-winning Analyst, multi-nominated digital content creator and photographer Lavina Dsouza's words capture stories about culture and tradition mainly through its food and people. She has written and contributed to publications such as The Washington Post, Lonely Planet and Matador Network, to name a few. She is the editor of UntraditionalHumans.com, a non-profit created to share inspiring stories from women of colour who break free from traditions and choose happiness.
She's also a speaker passionate about DEI and champions solo travel. She has collaborated with numerous renowned brands such as Intrepid Travel, TripAdvisor, Travel and Leisure and Adobe, to name a few.
She can be found on Twitter and Instagram.
---
---
HERE'S MORE LISTS TO HELP YOU PACK
---
Some of the links on this post are affiliate links. These do not cost you extra to use, but will help provide Continent Hop with a small commission if/when you purchase through them, to recover some of the costs of running this website and providing free content to help you plan your travel. I appreciate your support!
---