Traveling is something most of us like to indulge in when possible.
However, while the prospect of traveling is pretty great, making your way around the globe is not always that easy and that's where travel apps come in.
Be it Europe or Asia, or anywhere else in the world, these apps help make a difference and help out with chores on the road or while away from home.
While having fun is essential its also necessary to have peace of mind whether you're exploring the Leaning Tower of Pisa or the Taj Mahal.
Today we're going to share with you a list of what we consider to be vital apps for your travels – they will help you save money, get from one place to another in no time, and even find the nearest and cheapest gas stop.
---
Rebtel
---
The first app on our list is an absolute must-have. When you're traveling, calling your friends or family at home can be hard if you're abroad, especially if you're on a whole different continent.
Rebtel connects you to local phone lines so you can make low-cost calls to other countries without the need for purchasing a local SIM card.
Some of the biggest travel challenges are indeed technology-related, and making calls is not the only hassle. Oftentimes when abroad, it becomes difficult to access the apps and websites you use at home, so another great tip we have for you is to use a virtual private network.
For instance, if you encrypt your web traffic by using ExpressVPN, your actual location won't prevent you from using the internet as you usually would at home – problem solved!
---
PackPoint
---
This app deals with something that all of us hate about traveling – packing. PackPoint does the difficult bit for you by creating a personalized list of things to pack for your trip.
Just enter the length of your stay, your destination, and any special activities you'll be engaging in like hiking or swimming, and PackPoint will take all that into account.
After you're done ticking off all the items in the list, you can even share the finished list with other users and vice versa.
---
Citymapper
---
Citymapper is the holy grail of urban mobility. It considers all means of transportation in a city to give you the fastest route to any destination, with step-by-step guides and directions.
Citymapper became so famous that earlier this year, it was bought by tech giant VIA, as reported by the Evening Standard.
Some of its best features include mapped routes for wheelchair accessibility and a chat where you can share your location with your fellow travellers to let them know you've arrived safely at your destination.
---
Wellness travel is one of the most sought-after experiences this year, as evidenced by Forbes' 2023 travel trends report. For a lot of people, being around fauna and flora is the best type of wellness when on vacation, so if that sounds like you, we recommend you download AllTrails.
This app will give you the best biking, hiking and running trails in a given area, plus all the details including trail quality, packing recommendations, length, obstacles and scenic spots. You can also view photo reviews from people who have hiked in those places before.
There's a paid version of the app, called AllTrails+, which lets you download maps to use offline and notifies you if you take a wrong turn, which is especially handy when you have bad service, as is often the case when hiking.
---
---
If a road trip is your favourite type of vacation, then this is the app you've been waiting for. GasBuddy lets you know where the most affordable fuel prices are based on your location and destination.
You can filter by price, amenities and brand to track down the best gas stop location nearby. So, fill up your tank, crank up 'Life is a Highway' on your radio, and you're all set to hit the road.
---
These were some of the apps we think will highly improve your travel experience. Just downloading some of these suggested apps can make for much more enjoyable travels, whether you have a work trip or a vacation ahead.
Some other apps we would recommend for all you globetrotters out there include TripIt, which puts together a travel itinerary for you with real-time alerts, Flight-Aware, which keeps track of your or your loved ones' flight progress, and Hopper, which notifies you of the cheapest fares when it's time to book your trip.
---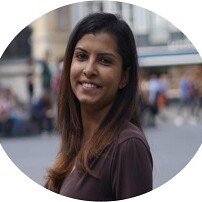 Award-winning Analyst, multi-nominated digital content creator and photographer Lavina Dsouza's words capture stories about culture and tradition mainly through its food and people. She has written and contributed to publications such as The Washington Post, Lonely Planet and Matador Network, to name a few. She is the editor of UntraditionalHumans.com, a non-profit created to share inspiring stories from women of colour who break free from traditions and choose happiness.
She's also a speaker passionate about DEI and champions solo travel. She has collaborated with numerous renowned brands such as Intrepid Travel, TripAdvisor, Travel and Leisure and Adobe, to name a few.
She can be found on Twitter and Instagram.
---
---
---
Some of the links on this post are affiliate links. These do not cost you extra to use, but will help provide Continent Hop with a small commission if/when you purchase through them, to recover some of the costs of running this website and providing free content to help you plan your travel. I appreciate your support!
---