The dreamy pics you see of many destinations such as Santorini, Iceland or even Italy undergo some work before they get out on social media.
For beginners, Luminar Neo is a beginner-friendly photo editing software from Skylum. The latest update now comes with AI-powered features which has changed photo editing for all the creative minds out there.
Luminar NEO offers various AI tools that have cut the tedious editing processes short to just one click along with the raw editing capacity of Lightroom. The new engine boosts the speed and performance of the software. It comes with various new features such as the Mask AI tool, the Portrait Background removal, the Dodge and Burn tool and many such game-changing features.
The latest version of the software, v1.12.2, has also released several extensions that can be added to the core software which makes it even easier to edit images with the help of a single software. It works on Windows and Mac both to suit your preferences.
---
Who Is Luminar NEO For?
---
Luminar NEO is a fantastic choice for beginners as well as seasoned photographers. Its simple layout and core features are great for those who are new to this field and want to explore more.
With its cutting-edge technology and AI-powered features, it is also a go-to software for advanced photo editing as it makes the task fairly simple and quicker.
---
Skylum Luminar Neo Installation & Set Up
---
The installation process for Skylum's new software is quite simple and easy to follow.
After purchasing Luminar Neo on Skylum's official website, you can download and install it. You will have to register for a Skylum account if you do not have one.
You are able to activate the software with your license key and then follow the instructions on the screen to download it on your computer.
The software requires you to have Windows 10 or macOS 10.13.6 or higher so make sure you check the system requirements on the website before installation.
---
The Key Features of Luminar NEO
---
Luminar NEO Interface
The software interface isn't cluttered and is easy to access. The software is essentially organised into three different tabs namely catalogue, presets and edit. The catalogue is where you can organise our imported images and choose which ones you want to edit. The software allows you to organise your images in a single folder, in folders and subfolders, according to year/month or according to year/month/day.
You get to access four different tools categories — Essentials, Creative, Portrait and Professional. You can browse through this variety of tools and if you find something you like, you can add it to your favourites which will then appear at the top under the favourites option.
The Presets
Presets is where you can find a variety of Luminar NEO's presets and use them to enhance your images. The presets are categorised by purpose and you can use these presets for portraits, landscapes, cinematic, and aerial images which is a great addition for people who are into drone photography.
There are also some other categories available. You can also adjust the intensity of the presets by simply using the slider.
Although the presets are great for beginners, the edit tab allows you to extensively make adjustments to your edits including a ton of AI retouching options. This allows you to manually edit your images to perfection.
---
Power Line Removal AI
This is one of the most interesting features of Luminar NEO. This AI feature will allow you to remove dust spots and power lines from your images with a single click.
The software does not disappoint at all when it comes to this tool. It is able to remove power lines from images without causing any warping or distortion. The job is done within minutes saving photographers hours of work.
---
Sky Replacement AI
This is another impressive feature that allows you to swap the sky of your image to that of your choice. You have a variety of options to choose from here as well. This tool replaces the sky seamlessly and gives you a perfectly lighted image.
What is impressive is that the tool also changes the reflection of the sky that falls on the water body, if your image has one. This would take hours of hard work to replicate in any other photo editing software.
---
Mask AI
The updated software now has a Mask AI tool which simplifies the masking process and highlights different elements in your image within seconds. It saves you the effort of manually highlighting elements with a brush.
---
Layers
You will find a list of layers on the side of the interface. You can add these to your images to make them fun and exciting. There are numerous options such as sparkle, light leak, flare, etc that you can add to your photos. Along with this, you can also add different elements to your images using Layers
---
Portrait Bokeh AI
This tool makes the process of adding Bokeh to portrait images completely automated. The tool makes the background blur along with keeping the subject clear and sharp. You can also add the Bokeh manually if you wish to by using the brush tool.
---
Portrait Background Removal AI
The Layer Properties command box has the Portrait Background Removal option and the Masking tab will show an option of Portrait Background which you can click to see the magic happen.
After AI has evaluated the image, you can choose to remove the background. AI does a nearly perfect job to separate the subject from the background. You might have to retouch some areas manually but that is still better than having to do it all manually.
Now that the background is removed, you can add a new background of your choice by importing it as a new layer.
One drawback of this feature, although not a huge one, is that it only works with images that have a human subject. This means that it won't work with animals, products, buildings, etc.
---
---
Face AI
Luminar also offers you Face AI tools with which you can enhance the face features of your subjects. You change eye colours, slim the cheeks and do much more with this fantastic feature.
This works with multiple subjects in one picture so it is great for editing group or family photos. The changes made by this tool are very subtle, which keeps the image more natural. You explore the plethora of options available under this feature to enhance your images.
---
Relight AI
You don't always get the lighting that you want in your images. With this tool, you can change how the light looks in your images and how it falls on your subject. You can adjust which areas look lighter or darker thus adding more depth to your images.
The only drawback is that without a human subject, this tool doesn't change much in your image.
---
RAW file editing
In the 'Develop' panel you can find various tools, AI and standard, to edit your images. This is a good option for all those who like manually editing their images. There is a variety of tools that you find in any standard photo editing software such as saturation, vibrance, and so on.
It is a relief to know that Luminar NEO can handle RAW files and you can also filter out the RAW files from the main catalogue.
---
Panorama Stitching
In this latest update, you will also get an extension for panorama stitching. You can do the basic panorama stitching for horizontal as well as vertical panoramas.
All you have to do is select the images and drop them in the panorama stitching panel and the software does its job in giving you a panorama image. You can adjust the perspective or crop the image according to your choice and then you just have to save the final image.
You can stitch as many images together as you wish to, just keep in mind that more the images you add the more time i takes to process them.
What's exciting is that you can also make a panorama image using a video. You must have a video that pans across the scene, ideally from left to right. Just drop the video in the extension and it will allow you to choose the start and end point through the video.
Another feature is the Custom Object Composition, which can be used to capture moving objects in your video. You can do this if you want to have these objects in your panorama once or multiple times as they move throughout the video.
You just have to select the object at all the time frames that you want. This is a cool feature if you are trying to show the movement of any object from the start till the end.
---
---
The Luminar NEO Extensions
---
There are seven extensions that you can install along with your main software. These extensions can be bought individually or together as a package. These extensions are dedicated to separate areas of editing and can be used within the software or as a plugin.
Given below are some details about the seven extensions.
● Sharpen AI extension will sharpen your images with the help of AI.
● Focus Stacking tool allows you to change the focus point of your image thus saving you the effort of retaking shots.
● Upscale AI tool enhances your images and adds some life to them. Upscale AI tool can be used to restore old photos or make existing images better.
● Magic Light AI tool allows you to adjust how light falls in your images. You can brighten or harden the light or change the softness or warmth.
● Background Removal AI tool takes the background removal process to the next level. You can remove the background from your portrait or product images with the utmost ease.
● Noiseless AI allows you to remove digital noise from your images with exceptional results.
● HDR Merge tool creates high dynamic images in just a few clicks.
After you are done editing your images, you can share them using the available share button.
---
How Much Does Luminar Neo Cost?
---
The software has three plan options— Explore for £11 a month, £4 a month for 24 months or £6 a month for 12 months. It can also be purchased £199 for lifetime.
Overall, Luminar NEO has an exceptional range of high-performance tools that will definitely come in handy while editing photos. With the power of AI, this software has made it absolutely easy to complete tasks that were otherwise quite tedious.
The software runs quite smoothly and the transitions are also seamless. This software has something for everyone and does not disappoint when it comes to performance.
---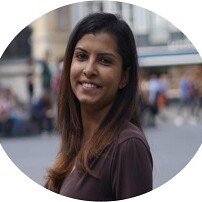 Award-winning Analyst, multi-nominated digital content creator and photographer Lavina Dsouza's words capture stories about culture and tradition mainly through its food and people. She has written and contributed to publications such as The Washington Post, Lonely Planet and Matador Network, to name a few. She is the editor of UntraditionalHumans.com, a non-profit created to share inspiring stories from women of colour who break free from traditions and choose happiness.
She's also a speaker passionate about DEI and champions solo travel. She has collaborated with numerous renowned brands such as Intrepid Travel, TripAdvisor, Travel and Leisure and Adobe, to name a few.
She can be found on Twitter and Instagram.
---
---
---
Some of the links on this post are affiliate links. These do not cost you extra to use, but will help provide Continent Hop with a small commission if/when you purchase through them, to recover some of the costs of running this website and providing free content to help you plan your travel. I appreciate your support!
---