A Mauritius in March visit is smart as its shoulder season, so while you may not find it busy, it sure is budget-friendly! Days are long and sunny, evenings cool and there's plenty to do, even if there are a few spells of rain. Here's all you need to know for Mauritius in March including the best things to do for first-timers!
Mauritius is one pretty island tucked away in the South next to the continent of Africa.
Despite its small size, the island has a lot to offer, including a reputation for being a great spot to relax on pristine beaches surrounded by crystal-clear water and magnificent mountain scenery.
Mauritius in March is when the island isn't busy and honestly it is one of the best times to visit if you're looking to save a little as it is one of the warmest places especially since it is still winter in the Northern hemisphere. It is even better if you're travelling with family as you can time it with spring holidays/Easter holidays if doable.
If you're planning to visit Mauritius in March, this guide will help you plan your vacation and experience its natural beauty, vibrant city life, and unique cuisine which is a fusion of Creole, Indian and a few other tastes!
---
Mauritius in March – how to get the best from your visit!
What to expect in Mauritius in March
---
It is the hottest month of the year in Mauritius however the scanty rains provide much needed relief and evenings are pleasant.
Travelers visiting Mauritius in March won't be disappointed as there's lots to do, from climbing the Le Morne Mountain to a trip to Pamplemousses Botanical Garden.
Nature's entire splendour is on full display in Mauritius in March, from the cool air caressing your cheek to the lush vegetation made possible by the end of the rainy season.
In March, you may indulge in some of the island's finest rums, unwind on its gorgeous beaches and experience the warm hospitality of its finest resorts and people.
Mauritius in March is not a bad time to visit as it is the month for big festivals such as Holi and Ugadi. This combined with the weather, makes March one of the best time to visit Mauritius and have a memorable vacation.
---
Weather in Mauritius in March
Mauritius is a tropical paradise off the Southeast coast of Africa in the Indian Ocean. And because of that, expect hot weather every day of the year, however temperatures vary quite a bit.
However, Mauritius weather in March even with wet spells, is still good for travel. Even if you go during the rainy season, you can expect plenty of warm, sunny days. You'll stay cool thanks to the nearby ocean and the south-easterly breezes.
The temperatures in Mauritius in March is an average high of 30ºC, and the weather is mild even at night. Night-time lows are 22ºC, so you won't need to bring layers of clothes. However, you should carry a waterproof jacket since it rains for a total of 77 mm over the month.
There will still be 12 hours of daylight each day; on average, there will be 7 hours of sunlight.
So don't forget the sunscreen; UV rays will be pretty intense!
Even though Mauritius in March weather has high humidity, the Mauritius March water temperature is pleasant at 28ºC, making it ideal for swimming. Every day, sunset occurs at about 6:30 pm.
---
---
Mauritius in March by region
Port Louis in March
In March, the average temperature in Port Louis is 25°C, with 20 days of rain.
Port Louis, Mauritius' capital is situated on the main island. Port Louis is famous for its French colonial architecture and the Champ de Mars horse-racing track, built in the nineteenth century. The Blue Penny Museum is dedicated to the island's colonial and maritime histories and culture.
Go to Le Courtyard Restaurant for some exquisite Rougaille shrimp kombava and finish your meal with curry ice cream over granita coffee. Stay at the beachfront Le Suffren Hotel & Marina in Port Louis, where you may enjoy views of the Indian Ocean or the hotel's gardens from the comfort of your room.
---
DETAILS
Blue Penny Museum
Address: Dans Caudan Water Front, Port Louis, Mauritius
Timings: Monday to Saturday 10 am – 4.30 pm. Closed Sundays
Price: Rs. 245 for adults and Rs. 120 for children. Group prices can be found here
---
Ile Aux Cerfs in March
The average temperature in Ile Aux Cerfs in March is 26°C, with 16 days of rain.
Ile Aux Cerfs, with its golden white dunes, is a must-see. Enjoy a Catamaran ride or soar high with some parasailing.
Dine in Le Flamboyant, a unique restaurant specializing in French and Mauritian delicacies. Stay in Bubble Lodge Ile aux Cerfs, an innovative hotel featuring streamlined rooms in transparent bubbles.
---
Grand Baie
In March, the average temperature in Grand Baie is 27.6°C, with 21.9 days of rain.
The town of Grand-Baie is located in northern Mauritius. Its sandy beaches include the isolated La Cuvette and the sailboat-filled Grand-Baie Public Beach, located in a protected bay.
To the northeast lies the famous Pereybere Public Beach. The town offers a selection of restaurants and vibrant bars.
La Rougaille Creole is the best seafood restaurant in town. Their seafood platter and crab soup are a must-try. Spend your lazy afternoon at one of Mauritius's best beaches (pictures here), a stone's throw away from the finest hotel in Grand Baie – LUX* Grand Baie.
Flic en Flac
The average temperature in Flic en Flac in March is 27°C, with 16 days of rain.
Flic en Flac is a very tourist-friendly city. It's situated along the western shore. It's famous for being home to Mont Choisy, the island's longest and most well-known beach.
Located 300 feet from the beach, Sugar Reef West Coast is the best hotel in Flic en Flac. For good food, Sunset Garden offers a wide variety of exquisite dishes you will surely enjoy. With one of the lowest rainfalls in the region, Flic en Flac is a popular spot in Mauritius in March.
Chamarel
The average temperature in Chamarel in March is 29°C, with 23.6 days of rain.
Visiting the Chamarel Colored Earth is like seeing the Windows desktop materialize before your eyes. The seven sand colour levels here are significant tourist attractions, a rare event.
L'Alchimiste has fantastic cuisine and friendly, helpful staff, and it's an excellent place to get lunch. The Lakaz Chamarel Exclusive Lodge is the best hotel option to stay in Chamarel.
---
DETAILS
Chamarel Seven Colored Earth Geopark
Address: 7 Colored Earth Road, Chamarel, Mauritius
Timings: Everyday from 8.30 am – 5 pm
Price: Starting from Rs.500 depending on ticket type
---
Pamplemousses
In March, the average temperature in Pamplemousses District is 26°C, with 7.9 days of rain.
Pamplemousses Park is undoubtedly one of the most excellent places to visit in Mauritius, particularly for garden enthusiasts. It has a diverse variety of plants from throughout the globe. The oldest botanical garden in the Southern hemisphere it is particularly famous for its giant water lilies.
Wine and dine at Le Fangourin for outstanding cuisine, a beautiful setting, one-of-a-kind drinks, and impeccable service. Pamplemousses' finest hotel is the Luxury Cosy Guesthouse.
---
DETAILS
Pamplemousses Park – Sir Seewoosagur Ramgoolam Botanical Garden
Address: VHWJ+448, Pamplemousses, Mauritius
Timings: Everyday from 8.30 am – 5,30 pm
Price: Starting from Rs.200, more details can be found here
---
Trou-aux-Biches
The average temperature in Trou-aux-Biches in March is 29°C, with 20.8 days of rain.
The location is ideal for visiting at any time of day. Snorkeling and swimming are popular morning activities.
The whole zone is lined with several cafes that provide excellent Mauritian street food that you may munch on after each swim. L'Ananas offers delicious cuisine, friendly service, and a fun evening. Trou-aux-Biches' finest hotel is the Beachcomber Golf Resort & Spa.
---
How do I get around Mauritius in March?
Transportation options include using public transportation like the bus or hiring a taxi or vehicle (with or without a driver). The hotel may call you a taxi or provide information on reliable transport services.
Public transport in Mauritius
If you want to experience real life in Mauritius and meet locals, you should take the bus at least once. The several bus companies in Mauritius cover almost all of the island's major thoroughfares.
The buses are available from 5:30 am to 8:30 pm during weekdays in the city and from 6:30 am to 6:30 pm during the weekdays in the countryside. Find out from the front desk or your host what time the local buses run before you leave.
Private driver in Mauritius 
You can hire a private driver with your Mauritius car rental. All of the drivers are very courteous and focused on the needs of the passenger. The drivers are bilingual in English and French and may accommodate requests for drivers who speak other languages.
The private driver service is also available for night-time rentals. You can go out dancing at a local nightclub, dine at a five-star restaurant, or do whatever your heart desires.
Local transport services in Mauritius provide convenient, on-demand access to a wide variety of vehicles, each staffed by a licensed driver, for all land transportation needs, including transfers to and from the airport. Depending on the number of people and your tastes, you can choose from family cars, SUVs, or luxury coaches.
Renting a car in Mauritius
Renting a vehicle, scooter, or bicycle and bringing a map or GPS device will allow you to explore the island at your speed. It's cheap to rent here. Keep in mind that in Mauritius, traffic flows from right to left, and left turns are always given the right of way. If you need help, stop and ask a stranger for directions.
Where to stay in Mauritius in March
Since most visitors want to spend most of their time at the beach, the most outstanding hotels and resorts are naturally situated close to the shore. Many areas in Mauritius have been recognized as being considerably better suited for tourism. Therefore, hotels tend to be built near one another.
When one hotel opens in a particular location, it often spurs the development of similar establishments in the surrounding neighbourhood. It may take time to pick the perfect area from among the numerous available.
The best locations and top hotels in Mauritius are listed below.
Belle Mare 
Belle Mare, on Mauritius's south-eastern coast, is a stunning beach and the name of the town that sprang up around it. It's a favourite for residents and visitors because of its breath-taking beauty. This town is a popular destination for swimmers, snorkelers, and scuba divers.
Windsurfing, parasailing, horseback riding, and other activities are also available.
Luxury: Constance Belle Mare Plage is the unanimous choice of visitors looking to stay in the are. The resort has a white-sand beach on a picturesque lagoon, a pool with luxurious facilities, tastefully decorated villas, and delectable dining and drinking options.
It's great for honeymoons and family trips because of its accommodating layout. As one might expect, it also has a luxurious spa and a golf course!
Budget: Orchid Villas are not only budget friendly but also quite close to the beach. They're done beautifully, have clean rooms and also pools, terrace and gardens with an on site restaurant.
Balaclava
Balaclava is often regarded as the best area to stay in Mauritius. The City of Balaclava is situated in the northern portion of the island, next to the tourist village of Grand Baie, which is quite popular by itself. It is also close to Pereybere, Mauritius' premier public beach.
Luxury: The Westin Resort & Spa
Guests at the Westin get breath-taking views of the serene Indian Ocean. The swimming pool, gym, and tennis courts are great for families. Both parents and scuba divers will appreciate the on-site childcare and diving facility. There are patios or balconies off every room, which is a nice touch. Service is impeccable!
Budget: Maison Du Nord is located just 750 yards from the beach and is minimal and budget friendly. The location is well liked by families for its proximity to attractions around. Rooms are clean and service great!
---
Events and Festivals in March in Mauritius
Christians, Hindus, Muslims, and Buddhists live together peacefully on the island of Mauritius. In March, visitors to this melting pot of cultures get to experience the diversity of beliefs and customs practiced here for generations.
Holi
All kinds of people, from the Hindu and Sikh faiths to others, celebrate Holi, the festival of colours held annually in the spring. It's a celebration of the beginning of spring and the victory of virtue over evil. The celebration begins on March 8, 2023, and might continue for up to sixteen days.
Mauritius National Day
Mauritius Independence Day is observed on March 12 every year. On the anniversary of Mauritius becoming an independent state within the Commonwealth, this day honours the island nation and its people, culture, and customs.
Ugadi
Ugadi is an important event observed on March 22 this year in Mauritius. In addition to being a day of celebration for the Telegu people, it is also a legal holiday. According to the Hindu calendar, March 23 is the first day of the New Year.
Families go shopping for new outfits a few weeks ahead of time. Cleaning and washing one's home is an essential tradition for Telegu households.
---
Tips for Future Travelers when visiting Mauritius in March
Visiting Mauritius may be a fascinating and enlightening adventure. As exciting as an experience may be, it's tempting to let yourself get carried away. Keep in mind the importance of safety and security measures when traveling internationally.
If you follow these tips, you can make your vacation to Mauritius one to remember for all the right reasons.
Get familiar with your travel destination
You should learn about the best areas to stay in, the least dangerous hotels, and crime rates by reading reviews written by other travelers and talking to locals.
The suggestions listed above by region are some of the best on the island and well-rated.
Pack your things appropriately
Even though it is warm all year, you should still bring a thick sweater and long trousers. Mosquitoes may also be a serious problem in Mauritius. Mosquitoes are common all year, especially in national parks. Malaria and dengue fever are not a concern in Mauritius; however, mosquito bites are. Mosquito repellent is always important, but you can get it just as readily at the local stores nearby.
Also note that Mauritius has a different power outlet arrangement than the majority of Europe. Most hotels provide converters or have regular European outlets in addition to Mauritian ones. However, just to be safe, we suggest taking a travel adapter along with your things.
Get some safety equipment
It would be best if you took precautions against pickpockets by purchasing clothing and accessories that make stealing valuables harder.
Keep your guard up while using public Wi-Fi
Credit cards and Social Security numbers are easy pickings for hackers who target people using public Wi-Fi. Installing a virtual private network (VPN) before leaving home is the safest way to use the Internet when away from home.
---
It isn't surprising that a island like Mauritius has almost everything to offer to visitors no matter their tastes and preferences.
The island is lush and full of activities to suit every type of traveller. Make sure you plan well, especially if its your first time in Mauritius in March. Irrespective of the month the it is perfect time to get the most from your holiday in one of the most beautiful regions of Africa!
---
Mauritius in March – FAQs
When are the best times to go to Mauritius?
October to December is the best time to go to Mauritius however shoulder season helps you save during the months of January – March and September.
March provides ideal weather conditions for a trip to Mauritius. Mauritius has a subtropical climate that is often sunny, warm, and clear, making it a perfect beach resort for most of the year.
The southern Chamarel Mountains get rain all year, giving them a lush green cover. Still, the rest of the island sometimes receives considerable rainfall for long periods in January and February when storms come in from the Indian Ocean.
How many days in Mauritius?
7 days in Mauritius is ideal for a first visit. A shorter vacation to Mauritius would not provide enough time to relax and enjoy the island's numerous incredible sights and activities. You need to stay at least a week in Mauritius to take in the attractions it has to offer.
What is the official currency of Mauritius?
Mauritian rupee is the country's official currency. Most tourist-oriented businesses accept credit cards. You may use your card to withdraw local money from numerous ATMs around the country.
Like other tourist destinations, you should carry local currency for small purchases and tips. Credit cards, particularly Visa, Mastercard, and American Express, are also accepted practically everywhere in Mauritius.
Is Mauritius Expensive?
Traveling to Mauritius might be expensive, but it's possible to save significant savings by carefully planning your trip and booking your accommodations.
---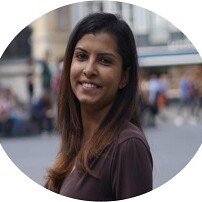 Award-winning Analyst, multi-nominated digital content creator and photographer Lavina Dsouza's words capture stories about culture and tradition mainly through its food and people. She has written and contributed to publications such as The Washington Post, Lonely Planet and Matador Network, to name a few. She is the editor of UntraditionalHumans.com, a non-profit created to share inspiring stories from women of colour who break free from traditions and choose happiness.
She's also a speaker passionate about DEI and champions solo travel. She has collaborated with numerous renowned brands such as Intrepid Travel, TripAdvisor, Travel and Leisure and Adobe, to name a few.
She can be found on Twitter and Instagram.
---
---
EXPLORE MORE OF MAURITIUS
---
Some of the links on this post are affiliate links. These do not cost you extra to use, but will help provide Continent Hop with a small commission if/when you purchase through them, to recover some of the costs of running this website and providing free content to help you plan your travel. I appreciate your support!
---