Traveling around the world is one of the most enlightening experiences you can have as a student. You discover new cultures, habits, cuisines, and traditions that expand your horizon. And as long as people around the world want to travel; be it Europe, Asia or Africa, there will always be a need for travel writers.
People travel the most during their time in college and university because they have the time and opportunity to explore different destinations. Travel writing in English literature helps students to learn how to put down their experiences in a way that mirrors significant insights about their journey to the audience.
Any student with a genuine passion can easily develop their skills by following examples of travel writing by some top experts online. Read on to know everything you should know about travel writing as a student.
---
What Is Travel Writing?
What Are the General Rules of Travel Writing?
---
Travel writing is non-fictional writing that describes the places and experiences of the author on domestic and international travels. This type of writing provides vivid descriptions, illustrations, historical backgrounds, maps, and diagrams of fascinating places, people, and activities completed during their escapades.
Still, travel writing definition has evolved over time. Traditionally, travel writing focused mainly on narrating the exact experiences of the writer, while modern travel writing follows a blog-style format that provides tips, advice, recommendations, and must-sees, as well as the dos and don'ts based on the writer's experiences.
Similar to fiction writing, the writing styles used in travel writing can range from funny to journalistic to introspective and too serious. Also, travel writing follows some best practices. The conventional rules of travel writing require that it should:
Contain vivid details

Be written in the first person

Be relatable to the audience

Tell the story in the past tense

Add value through tips and guides

Balance show and tell
---
Why is travel writing Important for students?
---
Renders information about foreign places
Travel critics research different destinations and tourist attractions and write about their experiences. The content helps people to form an objective vision of the world and discover more about places they have never visited.
The personalized style applied by modern freelance travel writers provides critical details, such as tips and recommendations that can help students to prepare adequately for a trip and enjoy their adventure. For example, travel writers include information about remote territories, fun activities, and cheap hotels, services for English-speaking travellers, and companies that assist tourists.
---
Motivates students to explore the world
The importance of travel writing in motivating people to visit novel destinations cannot be understated. The vibrant descriptions, testimonials, and expressions of real feelings and emotions during a trip encourage people to complete a similar journey and recreate the experiences.
Also, the custom information and reviews contained in travel pieces provide useful information for students taking travel and tourism courses. It also eliminates the fear that keeps away many people from visiting certain destinations. That is why travel writing receives the utmost attention even from government officials in the tourism sector.
---
Mirrors the diversity of the world
The purpose of travel writing is to highlight new destinations and cultures and inform the readers of the beauty of new places. Travel books and blogs that highlight a wide range of world ethnicities and cultures draw a lot of attention and help people to understand and respect peculiar cultures of the world.
They help students to learn about indigenous communities, acknowledge their existence, and develop respect for peculiar ways of living by minority populations.
---
Helps students to travel more efficiently and improve their writing skills
Educators encourage learners to seek travel writing jobs that will enable them to experience different cultures, acquire new knowledge, and create new experiences. Reading travel blogs based on testimonies by other people can help you organize your trip better, make your trip more pleasant, and save you money and energy.
Still, it can be difficult to produce custom texts, such as essays, about your travels. If you have notes about your travel experiences but struggle to create a top-notch travel writing piece, you may consider getting essay writing help.
The online writing companies have experts that can assist you to interestingly reproduce your ideas in writing. If you don't have time for travel, they can also produce any custom textual work according to your specifications.
The model papers you get from a top writer can foster your storytelling and writing skills. If you have a writing crisis, visit the writing services by CustomWritings anytime and talk to a professional who will help you to develop a high-quality and timely travel essay.
---
Where to Find Inspirational Travel Writing Examples in 2023
Whether you are a seasoned travel writer or just starting, finding inspirational travel writing examples is crucial to honing your craft. Here are some places where you can find inspiration in 2023:
---
Online travel magazines and blogs
There are numerous online travel magazines and blogs that publish travel writing. Travel + Leisure, National Geographic Traveller, Lonely Planet, and Conde Nast Traveller are among the most well-known. These magazines feature articles written by seasoned travel writers and photographers, making them an excellent source of inspiration.
There are numerous travel bloggers on the internet from whom you can draw inspiration from too.
---
Social media
Social media platforms such as Instagram and Twitter have grown in popularity as a means for writers to share their work. Hashtags such as #travelwriting, #travelblog, and #travelgram can help you find new writers and their work.
Following travel writers on social media can provide insight into their writing process as well as their travel experiences. You can also interact with their work and gain knowledge from their style and technique.
Also, note that children are not permitted on the path. Anyone under 4 ft tall is not permitted on the Gobbins walk.
---
---
Online writing communities
Online writing communities such as Medium and Wattpad have become popular places for writers to share their work. Travel writing on these platforms ranges from personal narratives to destination guides. You can find new writers and stories that inspire you by exploring these communities.
---
Books
Books continue to be a great source of inspiration for writers. Travel books by well-known authors such as Bill Bryson, Pico Iyer, and Cheryl Strayed provide insight into the craft of travel writing. They also provide a glimpse into various cultures and destinations.
---
Travel writing comes with lots of new discoveries and experiences
---
In addition to discovering new people, places, and traditions, you also learn more about yourself. You get to inspire others to follow in your travels by relaying inspirational travel stories. We hope you're inspired to want to write more and write better.
---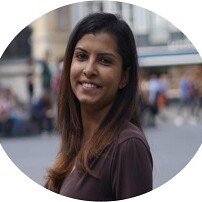 Award-winning Analyst, multi-nominated digital content creator and photographer Lavina Dsouza's words capture stories about culture and tradition mainly through its food and people. She has written and contributed to publications such as The Washington Post, Lonely Planet and Matador Network, to name a few. She is the editor of UntraditionalHumans.com, a non-profit created to share inspiring stories from women of colour who break free from traditions and choose happiness.
She's also a speaker passionate about DEI and champions solo travel. She has collaborated with numerous renowned brands such as Intrepid Travel, TripAdvisor, Travel and Leisure and Adobe, to name a few.
She can be found on Twitter and Instagram.
---
---
---
Some of the links on this post are affiliate links. These do not cost you extra to use, but will help provide Continent Hop with a small commission if/when you purchase through them, to recover some of the costs of running this website and providing free content to help you plan your travel. I appreciate your support!
---