Busan is bustling with energy and while many head to Seoul for their first taste of South Korea, Busan has a lot to offer in terms of culture, food and a gorgeous seafront. There's numerous things to do in Busan and here's a few to get started!
While flicking through Netflix, you may come across many K-dramas, or someone might casually mention the korean Barbeque place in town that's worth a visit.
For many who haven't been to South Korea, this is the first step to getting introduced to the vibrant culture and food in Korea. For those looking to visit, Seoul may the place where your international flight lands and you may end up spending all your time here.
South Korea however is worth more than a single visit and Busan is just one of the places you need to add to your list.
Many in Busan call it the 'City of tomorrow' and being South Korea's second largest city, there's quite a lot here for someone looking to experience the next level in what's trendy in tech, yet this city has a lot of layers when it comes to its history and culture.
Busan is one of the rare places in South Korea which stayed intact after the Northern War and was even the capital of South Korea during this time, which makes it one of the best places in the country to get a taste of how life has progressed yet one can see remnants of the past.
This quick roundup of things to do in Busan covers what you could do on your first visit here and will give you a taster of various aspects of this city that's full of life so that when you return, you know what you'd like to explore better!
---
Things to do in Busan
Here are a few suggestions on what to do on your first trip here
---
1> Gwangalli Beach
If you've travelled here from a distance, Gwangalli Beach is a great place to unwind, relax and get a feel of the place. Located alongside a series of restaurants, nightclubs and cafes, Gwangalli Beach is perhaps the most active part of the Busan Metropolis.
Shaped like a crescent, this beach has fine sand and is located in a cove made by Gwangan Bridge. During the day, Gwangalli Beach attracts tourists and locals alike for a good swim and sunbathing session.
During the evening, people often come here to shop, dine and stroll along the paved promenade to Gwangan Bridge, also known as Diamond Bridge, overlooking the well-lit cityscape.
---
DETAILS
Address:  Gwangan 2(i)-dong, Busan, South Korea
---
---
2> Gamcheon Cultural Village
Once you're rested, one of the best places to start your trip to Busan is at Gamcheon – or Gamcheon Cultural Village as it is called locally. It is also one of the most Instagrammable spots in Busan if you're into photography.
Although one of the more touristy things to do in Busan, this tiny art village was initially built in the '50s by Korean war fugitives. Ever since, the town has gotten bigger and better and now has several nicknames, including 'Machu Picchu of Busan' and 'Lego City'.
The village's narrow alleys hide many art galleries and cute cafes for you to explore, so ensure at least one full day to get a complete experience.
Some of the most popular sites in Gamcheon Cultural Village include the Asteroid B612 Souvenir Shop, Little Museum, Gamcheon Loess Salt Company, Ocean Photo Zone and Message of Hope. With bright graffiti and art installations across the streets, this is one place that will make you want to click pictures at every turn so make sure you have enough spare memory cards!
---
---
 3> Gwangbokro Street
If you're looking to delve into street shopping and are keen to get a taste of the street food in Busan, Gwangbokro is where you need to head to. Gwangbokro is to Busan what Myeongdong is to Seoul. At the start of Gukje Market and ending at the Nampo-dong Station Exit 7, this cultural and fashion hub is home to several shops selling cosmetics and clothing of all budget ranges.
From high-end luxury brands to pocket-friendly products, one can find anything and everything related to fashion at Gwangbokro Street.
For window shoppers, this marketplace is equally suitable for a stroll thanks to its excellent environment, including neat lights and pleasing flower beds along the street.
You can also try out the many stalls selling Korean street food here, including steamed buns made of rice flour, served with red bean paste called chapssaltteok or chicken skewers, locally called dakkochi.
---
---
4> Taejongdae
Taejondae Park is a natural park located on a cliff on the southernmost end of Yeongdo-gu. The park consists of a lighthouse overlooking the hypnotic waters of the East Sea.
On a clear day, one can even spot the islands of Japan from here. The hike to the lighthouse in Taejongdae is a bit long from the entry gate of the park but well worth the walk.
However, for those who do not like to walk much, there's the option of booking a ride in the Danubi Train that goes around Taejongdae Park. There are also several food tents and a few cafes where one can stop for some snacks or a quick bite.
With a dense evergreen forest overlooking the ocean, Taejondae is truly one of the best things to do in Busan, away from the hustle of the city.
---
---
5> Jagalchi fish market
Located in the heart of Busan, Jagalchi Fish Market is the largest in all of South Korea. From dried to live fish, visitors can select a variety of seafood including crab, octopus, squid, prawn and more.
The most captivating aspect of this market is that buyers can purchase live seafood to their heart's content and then take it up to one of the many restaurants on the upper level for preparing a meal at an additional cost. One of the only times I have experienced this has been in Kerala at the Chinese fishing nets.
For those unversed into the world of seafood, visitors can also hire a guide to sample the best and freshest seafood of the lot. Most sellers here are middle-aged women and the right term to address them with is "ajumma". Do not forget to get your haggling hat on while at Jagalchi Fish Market to get the best deal possible.
---
DETAILS
Jagalchi Fish Market
Address:   52 Jagalchihaean-ro, Nampo-dong, Jung-gu, Busan, South Korea
Timings: All week 8 AM to 10 PM
Approximate price: Free
---
6> Busan Sea Port
Locally known as Busan Harbour, this is the largest seaport in all of South Korea.
The port is a lovely spot to spend some time post-sunset as the sparkling city lights create a beautiful ambience for a romantic stroll in Busan. The history of Busan Harbour is long and rich, as during the North Korean invasion many refugees came into South Korea through this port.
Busan Sea Port is a part of the Maritime Silk Road that runs between the coast of China to Mombasa in Kenya, going through Southern India, then further up to the Suez Canal, the Mediterranean Sea and finally ends at Trieste in Italy.
There are several things to do in Busan Sea Port including a sailing experience and trying out the variety of seafood available here as well.
---
7> An authentic Korean barbeque, street food and local beer
Popular worldwide, Korean barbeque is one of the best ways of grilling meat and seafood. It consists of grilling the ingredients on the dining table itself, then wrapping the items into a leaf and topping it with a variety of sauces.
Trying out a traditional Korean barbeque while you're in South Korea is undeniably one of the best things to do if you like Korean food. Some of the many restaurants serving samgyeopsal or barbeque in Korea include Anga, Ilpum Hanwoo and Tong Maru.
However, having a barbeque is just one of the ways to enjoy the local food here.
If you're new to a place, having some street food is usually a very budget-friendly method to eat your way through a place you don't know much about. One can try out the region's most sought-after delicacies without burning a hole in the pocket and that is what Korean street food is all about.
Some of the must-try street food in Busan includes the
Hotteok which is a pancake made of cinnamon and sugar served piping hot

Dakkochi which is skewered chicken grilled on an open flame with assorted vegetables

Tteokbokki are spicy steamed rice cakes served with egg, fish or chicken

Bindae-tteok which are mung-bean pancakes

Mandu or dumplings stuffed with vegetables or meat or both served with a chilli and soy sauce and

Gimbap which is the Korean version of sushi includes steamed rice and other fillings inside a seaweed wrap.
---
While street food in Busan can be found anywhere and everywhere, some of the must-visit locations include Gukje Market, Seomyeon, Kkangtong Market and the Busan International Film Festival (BIFF) Square.
Apart from its street food, Busan is also famous for its variety of local beers brewed inside the city's microbreweries (or even sometimes inside a local's home!)
Sampling out the many local beers available here is one of the best things to do in Busan. The boom of craft beer in South Korea came in during 2014 after revisions in the country's liquor laws and ever since, there's been no looking back.
Some flavours to look out for include white IPA, kolsch, tiramisu stout, yuja fruit, and raspberry wheat.
There are several breweries across Busan where one can get a taste of the local flavours. But some worth mentioning here include Gakmegi Brewing Company, Slice of Life Taphouse and Wild Wave Brewing Company. It's also worth checking out the Busan Craft Beer Festival that takes place through the first week of September every year at BEXCON.
---
8> Nampo dong
Nampo-dong, in Jung district, is Busan's top shopping area. The Nampo-dong Underground Shopping Center is an indoor shopping space with a heating and air conditioning system in place.
Thanks to its easy accessibility via public transport, this place has become one of the biggest and busiest commercial complexes in South Korea. There are several things available to shop here including men's and women's fashion, accessories, designer brands and local arts and handicrafts.
---
9> Busan tower
The observation deck at this 120-meter high tower in Yongdusan Park is a great place to get a bird's-eye view of the city of Busan, and especially Busan Harbour.
Other notable landmarks visible from the top include the Bell of the Citizens, the Statue of Great Admiral Yi Sun-sin and a bust of Baeksan An Hee-Je who was an independent activist from Busan.
Two high-speed elevators within Busan Tower take visitors up to the observation deck. The observation deck also has a small cafe for a meal with a view. At the base of the tower are several interconnected souvenir shops. The construction of this tower took inspiration from the canopy of the Dabotap Pagoda located in Bulguksa Temple in Gyeongju.
There is also an exhibition hall on the second floor of the tower known as Black Wonderland in Busan.
---
Details
Address:  37-30 Yongdusan-gil, Gwangbokdong 2(i)-ga, Jung-gu, Busan, South Korea
---
---
10> Igidae coastal walk
The Igidae Coastal Walk is a walking trail located south of Gwangalli Beach. This 4.7 kilometres long trail starts from Igidae Dongsaengmal and ends at Oryukdo Sunrise Park where a stroll across the skywalk is a great way to end the adventure with sweeping views of the surroundings.
For those who love the outdoors and prefer active holidays, this walk is one of the best in the country suitable for all levels.
This Coastal Walk consists of several sections with varying levels of difficulty including a paved walkway, steep stairs as well as a dirt path. The 2 kilometres of Forest Walkway makes for a great addition to this trail to complete a loop.
---
11> Bupyeong night market
Bupyeong Night Market is a vibrant market selling a wide range of things from fashion apparel to fresh produce and even street food.
This night market also goes by a few other names like Bupyeong Kkangtong Market which roughly translates to tin can market.
This name came into being during the Korean War when canned goods would get imported for American troops stationed in Busan. Other names include the Dottegi Market and the Gukje or International Market. The market opens at 7:30 pm and goes on till as late as 11:30 pm.
---
---
12> Haeundae Beach
As we started with a beach, it felt right to end with one too! Haeundae Beach is home to several festivals that take place here throughout the year.
Some of the most unique and famous festivals include the Polar Bear Club where visitors dip in the near-freezing ocean water during the winter; and the Busan International Film Festival that's hosted at the beach amongst other locations.
At the Folk Square on the beach, one can also indulge in traditional Korean games like neoldduigi or seesaw jumping, tuho or arrow throwing and yut nori which is a board game.
There are several things to do around this place, instead of just hitting the beach and visiting Oryukdo is one of them. Oryukdo is a group of small islands just east of Haeundae Beach.
The name suggests that depending on the tidal current, the group can consist of either five or six islands. What once used to be an island off the west end of Haeundae Beach, Dongbaekseom, which locals frequent for fishing, is also worth a visit.
---
South Korea is quite diverse for its area and there's quite a lot to explore no matter which place you pick; be it Seoul, Jeju Island or Busan. While most of the street food stays the same with local varieties and delicacies, the landscape varies greatly.
However, no matter which town you visit what will stand out is the warmth of the people and the smiles that extend from ear to ear. If the food or the K-dramas don't call out to you, the hospitality definitely will and have you longing to return as soon as you leave!
---
With Gamcheon Cultural Village, the Busan Film Festival and Busan's many art and photography galleries, the art scene in Busan has really picked up in the past few years. That, along with its rich food scene as well as the many shopping opportunities make it all worth a visit.
Busan is often considered a highly underrated city in South Korea. It has stunning beaches, interesting islands, a rich street food and seafood scene and great places to shop from. Apart from that, unique attractions like Seokbulsa Temple and Haedong Yonggung Temple make it quite popular amongst tourists.
IS BUSAN BETTER THAN SEOUL?
Both Busan and Seoul are Korean cities unique in their own rights. If you're someone who loves a great nightlife scene, Seoul is the place to go. On the other hand, for someone who enjoys the outdoors and likes to visit the beach or go on a hike, Busan may be a better bet. Busan is often considered a laid-back city while Seoul is a busy and fast metropolitan city.
Busan is generally a safe and friendly city to visit. It has a low crime rate and apart from the rare tourist trap, there is nothing much to worry about here. One common tourist trap in Busan to be careful is the area marked "Shopping Area for Foreigners" across the Busan Station.
WHAT FOOD IS BUSAN FAMOUS FOR?
Busan has a great street food scene. Small shops selling milmyeon must not be given a miss, Ssiat Hotteok is a popular street-style dessert and Eomuk or fish cakes are the most common street food found in Busan.
For some amazing seafood, select some fresh catch on the first floor of Jagalchi Fish Market and head up to the second floor and pick a restaurant to prepare it for you. For traditional liquor in Busan, do try out soju and makgeolli.
Busan is not an exorbitantly priced city, however, it is not the most budget-friendly city either. On average, tourists spend around 60,000 South Korean Won or 54 USD per day.
HOW MANY DAYS ARE ENOUGH IN BUSAN?
Though most itineraries would suggest around two days for Busan, since Busan is a big city and has plenty of day trips around, one should spend at least five days to really get to know the city.
---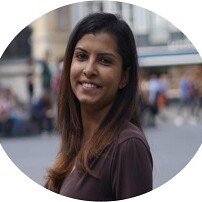 Award-winning Analyst, multi-nominated digital content creator and photographer Lavina Dsouza's words capture stories about culture and tradition mainly through its food and people. She has written and contributed to publications such as The Washington Post, Lonely Planet and Matador Network, to name a few. She is the editor of UntraditionalHumans.com, a non-profit created to share inspiring stories from women of colour who break free from traditions and choose happiness.
She's also a speaker passionate about DEI and champions solo travel. She has collaborated with numerous renowned brands such as Intrepid Travel, TripAdvisor, Travel and Leisure and Adobe, to name a few.
She can be found on Twitter and Instagram.
---
---
EXPLORE MORE READY-TO-GO ITINERARIES
---
Some of the links on this post are affiliate links. These do not cost you extra to use, but will help provide Continent Hop with a small commission if/when you purchase through them, to recover some of the costs of running this website and providing free content to help you plan your travel. I appreciate your support!
---