It isn't too bad to indulge in travel photography when travelling solo! It can be a little difficult at times especially when the weather is rough so here's some tips to get you started
The best way to save memories from our trips is to keep photographs from the places we visit.
However, we often get upset when we get back home and find out the shots are not as good as we expected. But it's time to fix the mistakes we all made and take your travel photography to a new level.
In this article, you will find 7 tips that will help you collect all the memorable moments of your adventures. So let's get started!
---
Here's a few quick solo travel photography tips to get you started
---
Find Inspiration Before Your Trip
It is a good idea to write a list of places you are going to visit during your journey. Check out others' photographs from the same locations on Pinterest, Instagram, or any other social media.
You don't need to copy them, just look for unusual angles and proper time of the day – early morning, sunset, etc. This will also help you avoid the common mistakes other tourists make and capture the places in a way only you can see them.
---
Follow The Rules of Composition
Right composition is a key factor for taking the best shot. The unsuitable composition can ruin even the most creative photograph.
Portraits and landscape photography are the most common genres in travel photography. So you don't have to know all the rules, just a couple of rules frequently used in these genres will be enough.
For example, the rule of thirds has two horizontal and two vertical lines dividing the picture into 9 equal parts. If you are taking a picture of a beach, make sure the sea takes ⅓ or ⅔ of the image and the skyline doesn't lie in the middle of the photo.
As for portraits, try placing the eyes on the upper third of the frame – the photo will look much more impressive this way. Do some research and you'll find a bunch of useful tricks to use.
Buy a Tripod for Your Camera
A tripod is a must-have for any traveler no matter where you go and with whom. You can use the tripod to hold both your camera and mobile phone. With a tripod in your hands, you can take shots of higher quality – the image will be more stable and sharp.
But don't worry if you can't invest much money in travel photography. Amazon offers lots of low-cost tripods you can order.
---
Get to Know Your Gear
How can you take stunning photos if you don't know the capabilities of your camera? This recommendation might sound boring, but don't hesitate to read the manual. It will give you answers to all the questions you might have about the gear.
You may also find out something you couldn't even imagine – various automatic modes, available file formats, and so on. It would be wise to watch a couple of YouTube videos to learn more information from other amateur and professional photographers.
---
Adjust the Camera Settings
To get the most out of your camera, you should make the camera settings help you create eye-catching photos from your trip. Start with setting ISO, a measure of the camera's light sensitivity.
For instance, in a low light situation you will need to increase ISO to help the lens get more light. Another setting to take care of is White Balance. If White Balance is set right, the colors in the images will look more natural.
---
Pick the Right Shooting Mode
Every camera has a set of shooting modes – both automatic and manual. There are also semi-automatic modes you might like to try. When we travel we often take photos in a rush, so we don't have time to make any adjustments. In these moments, the modes might really come in handy. You can find this information in the camera manual.
---
Stop Avoiding Photo Editing
There is a popular opinion that photo editing is not fair, and edited images are in fact deceiving. However, post-processing can help your photos look more natural – the scene will look just like in real life.
Colors, facial features, composition might get distorted in a photo, but it can be easily fixed with a handy program like PhotoWorks. It's a beginner-friendly photo editor with a handful of features such as automatic and manual color correction, changing the background, cropping, adding a picture to a picture, retouching, and even tweaking all your photos at once. The lightweight software will fine-tune your images in no time.
---
As you can see there are so many tricks that will allow you to improve your travel photography. Just make sure you know the opportunities your camera can give you and use them the right way.
Do some research, find inspiration, use the necessary equipment to be able to release your creativity. But don't forget to have fun! Pictures make no sense if you can't enjoy your trip – have a rest and let a photo editor do the job for you.
---
FAQs – Solo Travel Photography Tips
How do you take pictures of yourself on a solo trip?
Using a tripod or a selfie stick for photos and using a drone for videos are some of the popular ways to take pictures of yourself on a solo trip. If you are clicking close-up photos, then a wide-angle lens is recommended.
Learn how to use the self-timer mode of our smartphone camera. You will find different remote controls that can be used for clicking photos with your phone. You can also request other people to click your photos when you are travelling solo.
How do I take better pictures of myself for travel?
Learn how to use a tripod and how to find better frames around tourist spots. If you want to take better pictures of yourself while travelling, it is important to understand the composition and learn basic photo editing.
Make the most of golden hour and blue hour as the natural light can do wonders for regular photos. Also, imagine your shots in advance and do not shy away from trying a few times to click the best possible pictures while travelling solo.
Which camera is best for solo travel?
GoPro has always been the favourite amongst solo travellers. You can buy GoPro Hero11 or GoPro Max depending on your budget. If you are a budget traveller, then Canon Powershot is a good option. If you are looking for a high-end camera while travelling solo, you can consider Sony A7iv.
What's the best way to travel solo successfully?
The best way to travel solo successfully is to do lots of research before choosing your destination. It is important to book your accommodation in a safe area in advance.
Collect all the information about transportation options. Check for local travel-friendly groups on social media where you can ask for advice. Check the weather and pack accordingly. Keep your luggage light.
Plan your itinerary and share it with your close ones. Do add the contact details of your accommodation to your itinerary. Ensure you have plan B in case something goes wrong with your accommodation or transport.
---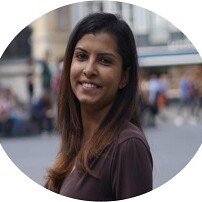 Award-winning Analyst, multi-nominated digital content creator and photographer Lavina Dsouza's words capture stories about culture and tradition mainly through its food and people. She has written and contributed to publications such as The Washington Post, Lonely Planet and Matador Network, to name a few. She is the editor of UntraditionalHumans.com, a non-profit created to share inspiring stories from women of colour who break free from traditions and choose happiness.
She's also a speaker passionate about DEI and champions solo travel. She has collaborated with numerous renowned brands such as Intrepid Travel, TripAdvisor, Travel and Leisure and Adobe, to name a few.
She can be found on Twitter and Instagram.
---
---
EXPLORE EUROPE FOR PHOTO INSPIRATION
---
Some of the links on this post are affiliate links. These do not cost you extra to use, but will help provide Continent Hop with a small commission if/when you purchase through them, to recover some of the costs of running this website and providing free content to help you plan your travel. I appreciate your support!
---