Many people tend to think of just Dubai for luxury getaways when it comes to the Middle East.
However, If you want to see and experience what luxury looks and feels like, look beyond Dubai! Very few other places in the world can compete with the Middle East, and we think it's the perfect definition of high-end, elegant, and chic.
Considering the luxury and high-end theme, why not take it one step further by hiring a private jet charter for your journey to and from the Middle East? Your holiday will start the moment you step into the airport, breezing through security and exclusively flying with your friends and family, making it a truly unforgettable experience.
To read more about how you should plan for your vacation in the Middle East, keep reading below for some of the top tips!
With gorgeous weather, exclusive brands, shopping malls that seem endless, mouth-watering cuisines from around the world, and exotic beaches especially in Oman, you will always have things to do, making it the perfect vacation destination for you to choose for your next holiday!
---
Where are you going?
It is all well and good deciding that you're going to the Middle East, but where exactly are you going within the Middle East? With so many luxurious destinations, we don't blame you if you have difficulty deciding on a spot
---
Dubai
If it's your first time visiting, then an obvious choice would be visiting Dubai, and it's a hotspot for travellers from around the world with good reason. Offering the opportunity to visit the tallest building in the world, it is a magical experience seeing the Burj Khalifa in person.
Or do you fancy skiing in the summer? In Dubai, you can, thanks to its indoor ski resort, Ski Dubai. If skiing isn't your thing, snowboarding is an alternative and lessons for both activities are available for beginners.
If you feel like opting out of all winter sports, there are still plenty of activities for you. Take that time to visit the adorable penguins, and even catch a movie at their ski cinema!
---
Doha
A bit of an underdog slowly making its way to being a hotspot and all the more reason for you to visit sooner rather than later is the city of Doha, the capital of Qatar. It has begun to gain a similar reputation and popularity as Dubai as a luxurious city with incredible architecture and gigantic shopping malls with the best brands on the market.
It is even home to the iconic Katara Cultural Village, responsible for hosting all sorts of global festivals and cultural events throughout the year for visitors to enjoy and participate in.
It may not be as popular as Dubai just yet, but we can see it making its way to that level over the years, so it's well worth visiting before it becomes full to the brim with tourists!
---
---
Abu Dhabi
Another popular and attractive destination within the Middle East is Abu Dhabi, home to the jaw-dropping Emirates Palace – aptly named for a seven-star hotel. To name just a few of its impressive features, it features a helipad, a private beach, and even a marina.
And if you're a bit of a daredevil, why not stop by the Ferrari World theme park, home to the fastest rollercoaster in the world? Make sure you save time on the trip for one of the many world-renowned restaurants after visiting the theme park.
---
What can you look forward to?
---
Another pivotal part of planning any holiday is knowing ahead of time what sorts of activities and excursions you can look forward to once you've chosen your destination.
Many people especially visit the Middle East for shopping, and rightly so, thanks to all the luxurious shopping malls and designer stores you can see under one roof. To give you an idea of how big we're talking, the Dubai Mall has well over 1000 stores. It has an aquarium within the mall itself and even an ice rink.
If you're looking for something other than shopping, thanks to its weather and deserts, the Middle East is also an excellent spot for outdoor excursions.
Dune bashing is especially popular within Abu Dhabi, or perhaps you want to take to the skies and skydive over Palm Jumeirah in Dubai? Hot air balloon rides are also worth waking up incredibly early. You'll get to view the desert from high above and bask in that peaceful moment, making a memory for a lifetime.
---
Prepare for the climate
When prepping to go away on holiday, it's always important to consider what sort of weather you'll be greeted with and pack accordingly. In the case of the Middle East, it is known for being typically dry and humid and having high temperatures for most of the year, so you might not need your winter coats!
We recommend that you pack light, as you will likely do a fair bit of shopping there, and bringing it back might become a hassle. To avoid extra baggage fees or sacrificing items and leaving them behind, pack light and fill up your suitcases with incredible designer boutique items from there!
---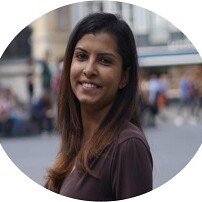 Award-winning Analyst, multi-nominated digital content creator and photographer Lavina Dsouza's words capture stories about culture and tradition mainly through its food and people. She has written and contributed to publications such as The Washington Post, Lonely Planet and Matador Network, to name a few. She is the editor of UntraditionalHumans.com, a non-profit created to share inspiring stories from women of colour who break free from traditions and choose happiness.
She's also a speaker passionate about DEI and champions solo travel. She has collaborated with numerous renowned brands such as Intrepid Travel, TripAdvisor, Travel and Leisure and Adobe, to name a few.
She can be found on Twitter and Instagram.
---
---
EXPLORE MORE OF MIDDLE EAST
---
Some of the links on this post are affiliate links. These do not cost you extra to use, but will help provide Continent Hop with a small commission if/when you purchase through them, to recover some of the costs of running this website and providing free content to help you plan your travel. I appreciate your support!
---