Mauritius may seem small to some but this island nation packs a lot in its two hour journey from the North to the South! Here's a small collection of my favorite Mauritius pictures that cover things beyond the beach! These pics of Mauritius have city and beach images and I hope you enjoy these Mauritius photos!
Fields of sugarcane. Women with 'Bindi's' on their forehead. The smell of Bhaji's and vendors selling vegetables on the streets.
I was not in India but Mauritius and it felt like coming home, to the smells of street food and the hustle and bustle in a city.
The first thing I noticed about the country is how much it reminded me of home, yet it was more diverse. Just on day one, I could see a thriving cultural mix where everyone adopted and participated in their neighbour's way of life.
Sure, you would come to Mauritius for its white beaches and palm trees, but if you wander a little towards its interiors, there are stories about how people came to be on the island, how people made it their own after a long history of colonization and how the country is making progress in leaps and bounds.
Mauritius is quite popular as a honeymoon destination, but for many Asians who'd like to explore the world, it is also the perfect place to start their adventure, as you get to experience a different heritage, but one which doesn't necessarily make you step away from your comfort zones.
Here are pics of Mauritius with a lot of food pictures, but it's also got a peek into the culture, activities, and lifestyle on the island.
---
Pictures of Mauritius that'll make you add it to the bucket list!
A collection of 30 stunning Mauritius photos
---
The food in Mauritius
I believe food is the best way to experience any destination and Mauritius is one of the best examples. Chinese, French, European, and African migrants settled on the island of Mauritius and brought their spices, way of cooking and family recipes with them.
Many Asians will find new versions of dishes they are familiar with but a different spice mix. The abundance of fish makes it a staple here and you'll find the freshest catch served to you, no matter what part of the island you pick to stay at.
There are curries, Briyani's, Vindaye's (similar to Vindaloo), Dim sum's in a broth (Boulet) and a variety of salads that have octopus and a hearty helping of palm hearts.
There's plenty on offer for vegetarians too as rice and lentils are staple with helpings of Gato piments (small fried dumplings of lentils with chilies) and Dholl puri (split-pea crepes with a filling of bean curry) on the side.
You can then finish off the meal with caramelized bananas, some of the sweetest pineapples in the world and pick a beer (like Phoenix) to accompany the whole experience! (Opt for this tour if you'd do it with someone knowledgeable!)
---
---
The people and culture in Mauritius
The locals in Mauritius are firmly rooted in their culture but are warm and welcoming of other traditions on the island.
This can be seen from the mix of people worshiping at temples and setting up shrines at obscure spots, including beaches!
I wouldn't be surprised if Mauritians were called some of the most hospitable as they're always welcoming you no matter where you go and are always looking to lend a hand or help when needed.
Creole and English are the main languages but Hindi, French and a few other languages are also spoken here, so you can be sure that no matter where you go, you'll never get lost and help is always around the corner!
---
---
Street Life, local markets and images of Mauritius city
Just like most countries in Asia and Africa, the streets in Mauritius are buzzing with life!
People buying knick-knacks from sellers sat by the road, enjoying freshly fried Mauritian street food, heading out on chores, jaywalking…..everyone you turn, there's a lot of images to take in.
Then there's the local markets and independent vendors selling juicy mangoes, tangy tamarind and exotic fruit. Vendors who not just have organic produce but who are more than willing to chat with you and share insights about their life, just like in a souk.
Who love their pictures taken.
Taking a walk down the street, avoiding traffic and figuring out public transport is a fascinating mix of noise and color and gives you an adrenaline rush!
---
---
Nature and activities around the island
No matter which resort or hotel you're staying at there will be a tonne of activities to choose from! Underwater scooters, snorkeling, scuba-diving, kayaking, hiking, rum-tasting, fishing, tea-tasting, island visits are just a few of the numerous activities you can choose on the island.
No matter what type of a traveler you are, you will find a few that suit your taste and depending on where you pick to stay, chances are you may not even have to leave the property to do them!
Sightseeing in Mauritius isn't about just things to see, to get the most from the island, you are a must!
---
---
---
The beaches, resorts, and gorgeous sunsets
No matter which resort you'll pick to stay and spend time at, you will get pampered!
Most of them have private beaches but there are many public beaches too, which are equally beautiful.
There are rock formations, corals and lots of colorful fish that you can see just a few steps from the beach. Some locations have tiny islands you can even walk to!
The sunsets are however the main highlight of the island of Mauritius and if it isn't cloudy you will be enthralled by the gorgeous display of colors here that go on for miles and meet the Indian ocean in the horizon!
The beauty of Mauritius is multifold and you'll be spoilt for choice!
---
---
When it's winter in Europe, however, December – March can get really busy and expensive!
Shoulder season is April – November and is the best time to visit Mauritius.
WHICH ISLANDS FORM MAURITIUS
Mauritius also includes the islands of Rodrigues, Agaléga and St. Brandon. The islands of Mauritius and Rodrigues also form part of the Mascarene Islands, along with nearby Réunion, a French overseas department.
HOW EXPENSIVE IS MAURITIUS
Mauritius is quite budget-friendly – as long as you step outside the resorts.
Food, shopping and most commodities are affordable, however, depending on season, stays at hotels can be expensive. Opt for homestays or budget-friendly resorts to make your stay last longer.
WHEN IS IT RAINY SEASON IN MAURITIUS
Due to the terrain in Mauritius, it could rain in one part of the island and be completely sunny in another. The rainy spell may last a few hours to the most. It rains almost the whole year but the wettest period is December to April with strong wind in some areas.
---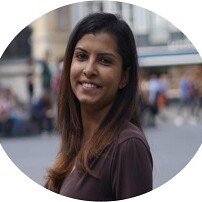 Award-winning Analyst, multi-nominated digital content creator and photographer Lavina Dsouza's words capture stories about culture and tradition mainly through its food and people. She has written and contributed to publications such as The Washington Post, Lonely Planet and Matador Network, to name a few. She is the editor of UntraditionalHumans.com, a non-profit created to share inspiring stories from women of colour who break free from traditions and choose happiness.
She's also a speaker passionate about DEI and champions solo travel. She has collaborated with numerous renowned brands such as Intrepid Travel, TripAdvisor, Travel and Leisure and Adobe, to name a few.
She can be found on Twitter and Instagram.
---
---
HERE'S MORE PHOTO DAIRIES FOR INSPIRATION!
---
Some of the links on this post are affiliate links. These do not cost you extra to use, but will help provide Continent Hop with a small commission if/when you purchase through them, to recover some of the costs of running this website and providing free content to help you plan your travel. I appreciate your support!
---