Wadi Rum in Jordan makes you feel like if you were to ever visit Mars, this would be it! Petra makes you believe you're in an Indiana Jones movie. These Jordan pictures will show you exactly why I say this! Hope these Jordan country images inspire to visit this beautiful country! These are some of my favourite Jordan photos!
Stars shooting away at almost 2 every 30 minutes.
The Milky Way visible to the naked eye.
A local singing folk songs somewhere between the mountains, into the night.
These are just a handful of memories that'll stay forever imprinted in my mind from Jordan. Jordan will make you believe you're on a different planet.
The people here are warm and welcoming. The food is delicious and the landscapes stunning. Add years of history and architecture and the marvel that is the Dead Sea and you've got a once in a lifetime trip.
There's numerous other towns you can certainly visit, but there's a reason people flock to these regions. For a first time trip, they are unmissable.
If you are an aficionado of culture and legends, chances are, Petra will call to you again, if you like offbeat experiences; the Dead Sea will do just that too!
I hope these pictures of Jordan showcase why I love this country so much and inspire you to visit it someday.
If you're a visual person, these Jordan country images will certainly help you get a better idea of what to expect in these regions and help you plan your Jordan itinerary better.
---
Images of Jordan to help you plan your trip!
---
BUT FIRST SOME PRO TIPS TO VISIT JORDAN
Ensure you spend at least 5 days in Jordan to get a feel of the country.
Between these 5 days, you should be able to divide your time appropriately amongst the cities I mention here unless you're not driving or would love to spend more than a day in Petra (2 days in Petra is advised as it is massive).
You would land in Amman and you can either get to Wadi Rum first or go from Amman to Dead Sea first and then move to Petra from either of the two locations.
Getting a Jordan pass is the best tip I can share as that'll not only get you entry to most attractions in the country but also help you get a quicker visa to the county on arrival.
Hiring a self-driven car is better in Jordan, however, opting for day trips or multi-day trips is a great option too.
Ensure you carry appropriate cotton clothing and plenty of water, as it can get quite hot during the day. Pre-booking your hotels is also advised as it can get really busy during the peak holiday season.
---
Immerse yourself in the hustle and bustle of Amman
While Amman may not have the 'Arabian Nights' vibes like Marrakech, it sure balances the Middle-Eastern feeling with a nice urban touch.
There are numerous restaurants to choose from that serve traditional Jordanian food, colourful murals (make for great pics) dotting the streets and 'hubbly bubbly' aka Shisha cafes.
The city is divided into 'circles' with Jabal Amman being the first circle aka the hub of the city, however, Rainbow Street is the most popular with visitors.
What makes the city quirky is the availability of a lot of antiques and offbeat experiences like making your own perfume! There are also numerous things to do like visiting the Citadel for the best views of the entire city, from here you'll also be able to view the Roman Theatre.
---
Admire the ruins at Jerash
Jerash, located just an hour or so away from Amman, is the perfect spot to visit if you don't have Petra on your travel plans (although Petra shouldn't be missed).
Jerash, which was known as Gerasa in the Greco-Roman times, is full of ancient, well-preserved ruins which are magnificent. Hadrian's Arch, The Hippodrome, The Oval Plaza, and The temple of Zeus are just some of the marvels you'll find in Jerash.
It makes for a worthwhile day trip from Amman and combined with Ajloun Castle, you're sure to have a memorable getaway!
---
Get lost in time at Petra
The hundreds of people visiting Petra every day do so for a reason. Seeing The Treasury through the Siq is stunning but is just one of the many monuments in Petra.
The Royal Tombs (Urn Tomb, Silk Tomb, Corinthian Tomb and the Palace Tomb), Petra Theater, Street of Facades, Colonnade Street, The Winged Lion and The Monastery are just a few that will leave you spellbound.
The UNESCO World heritage site of Petra in Jordan is massive and visitor passes are sold for one to three days. Attempting Petra in a day can be done but it is a quite tiring experience.
As mentioned earlier, with the Jordan Pass you can opt for entry from one to three days depending on your preferences.
Plan your visit on a day that coincides with the 'Petra at Night' display.
While honestly, I can't say the prices are worth it, it is still quite nice to get to be in Petra at night, with limited tourists. The Treasury and most of the path are lit up with candles and folk songs are played for the performances.
---
Float away in the Dead Sea
It isn't advised to spend more than 15 minutes at a time in the Dead Sea but floating on the Dead sea is a once in a lifetime experience. Yes, it is possible to read a book while lying on your back here!
The Dead Sea is accessible from Jordan and Israel, however, after visiting the sea from both countries, I prefer it more on the Jordanian side.
Not only is the high salinity therapeutic, the mud is too and you don't need to pay for either. Mini mounds of mud are scraped and available to use for everybody who visits. You can opt for a day trip here from Amman but I highly advise spending at least a night here.
Not many are aware though that the sunsets here are some of the best you'll ever come across!
---
Admire the galaxy at Wadi Rum
It is possible to see the Milky Way with your naked eyes, without the use of a a telescope or any other equipment, at Wadi Rum.
Wadi Rum is one of the best places I've ever visited and the terrain here will transport you to a different planet!
Wadi i.e. the 'dry river bed' region of Rum, has a unique rugged landscape and natural formations. Some of them are perfect for hiking and there are multi-day trips organised here just for that.
If you'd rather relax, there's still numerous activities in Wadi Rum you can still do here, like sandboarding, enjoying a traditional meal cooked by using dry branches and enjoying folk performances put up by the locals at night by the campfire while you enjoy the shooting stars from your tent.
There's a mix of luxury and budget accommodations but stay options in Wadi Rum are limited, so booking in advance is recommended.
Dinner can be opted for, for a little extra and is advised as once you're in the nature park, there are no restaurants. Lunches aren't included but are included in the day tours, if you opt for any.
Make sure you don't miss out on the food!
I was expecting Jordanian food to be similar to the Moroccan fare I was aware of, however, the dishes here took me by surprise.
They're both complex and simple, but non-spicy. You'll find a huge range of options throughout the country, most very budget-friendly and filling. Mansaf, Kunafa, Shawarma, Fattet Hummus and Falafel are some of the traditional dishes you'll find here that are quite tasty!
In some places, dishes are made fresh so you can even watch the cooks at work!
If you're lucky, you may be able to spot a dolphin, seal or porpoise as these animals have been spotted close to the cliffs.
---
A week in Jordan will pass by quickly making you wish you had more time here. While this may be the case on most of your holidays, Jordan will leave you with some of the most interesting experiences ever.
Sure there are plenty of tourists but even with all of them, it does seem worthwhile as visiting Jordan feels like taking a step (or many) back in time and the country will make sure you get the most out of your visit here.
---
IS JORDAN A SAFE COUNTRY?
Very much so! The week I spent here I did not feel at all unsafe however just like any other country there will be areas that are high in crime and theft. There are chances that at busy attractions like Petra, and with many people around in cities like Amman, pick-pocketing could occur.
So make sure you're aware of your surroundings, and don't carry all your cash and your passport with you (keep it in a safe in the room).
Also, ensure you either have the address to your hotel memorised so you can hire a taxi if required (and pay once you're back at the hotel).
IS JORDAN A BEAUTIFUL COUNTRY?
Undoubtedly! If my gushing about the beauty of the country throughout the post isn't enough, let me tell you again that there's a lot of food to suit every taste, and tonnes of history, culture and architecture to keep you occupied.
There are a lot of things to do in Jordan, irrespective of what you like so you will be busy and happy!
WHY IS JORDAN COUNTRY SO EXPENSIVE?
I wouldn't really call it expensive as the prices were cheaper than what you'd pay for a vacation in England/U.K. That being said you will find it expensive if you're travelling from someplace else.
However, there are budget-friendly options everywhere, that are clean and give you good value for money.
Food is inexpensive everywhere. Expect to pay about 20 JOD for a decent meal for two.
CAN YOU DRINK ALCOHOL IN JORDAN?
Even though Jordan is a Muslim-majority country, drinking alcohol in public (at restaurants and social events) is permitted. Please be aware that it may not be permitted to drink on the streets though.
You can also find and have alcohol at your hotel and most tourist places.
---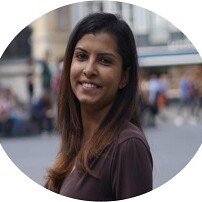 Award-winning Analyst, multi-nominated digital content creator and photographer Lavina Dsouza's words capture stories about culture and tradition mainly through its food and people. She has written and contributed to publications such as The Washington Post, Lonely Planet and Matador Network, to name a few. She is the editor of UntraditionalHumans.com, a non-profit created to share inspiring stories from women of colour who break free from traditions and choose happiness.
She's also a speaker passionate about DEI and champions solo travel. She has collaborated with numerous renowned brands such as Intrepid Travel, TripAdvisor, Travel and Leisure and Adobe, to name a few.
She can be found on Twitter and Instagram.
---
---
EXPLORE MORE OF READY-TO-GO ITINERARIES
---
Some of the links on this post are affiliate links. These do not cost you extra to use, but will help provide Continent Hop with a small commission if/when you purchase through them, to recover some of the costs of running this website and providing free content to help you plan your travel. I appreciate your support!
---