With phone cameras getting better it is quite possible to get passport size photos right at home. You may need to have the right equipment to print it but it can all be done at home especially when the weather isn't great to step out. Here's how to take a passport size photo from a mobile.
Any document has a set of requirements to follow. They are especially strict on passport photographs.
The rules might be hard to figure out, which is why the application process can feel stressful for a regular applicant, especially if you're doing it for the first time ever.
If you're worried about getting it right, the best bit is that you can even take a passport size from mobile.
You can effortlessly take a passport photo on your own whether you need a passport renewal or you are applying for a new one.
Here are the official requirements you should take into account before making your photo. Let's get started.
---
---
The first thing you need to check out is the required print size and quality. The US passport photo specifications are the following:
Photos have to be 2 x 2 which is 51 x 51 mm

The head must take between 1 -1 3/8 inches, i.e., 25 – 35 mm

Your whole head should be visible – from the bottom of the chin to the top of the head

The printed photo cannot be damaged with tears, scratches, etc.

Your photo needs to be sharp with no visible pixels

Print the passport photo using high quality ink and paper – matte or glossy

Adjust the printer's resolution – DPI, dots per inch

Use a tripod to avoid camera shakes
---
---
Clothes Requirements
To successfully apply for a passport, be sure to dress properly.
The main point is that your whole face has to be visible, so don't cover it with a hat, piercings, or glasses. You can take a passport photo in simple clothes you wear every day.
Headphones, wireless hands-free devices are prohibited

It's not allowed to wear glasses, hats, scarves, etc.

Uniforms and camouflage are not acceptable

Head coverings are only allowed for religious or medical reasons

Permanent tattoos are acceptable
---
Pose and Facial Expression
We always get confused while taking a passport photo since we have no idea what to do with our face, smile, hands, shoulders, and so on. Here are a couple of recommendations you should take into account.
Keep your eyes open and clearly visible

The facial expression should be neutral, do not smile

Make eye contact with the camera

Your full face needs to be directed to the camera

It is not allowed to conceal a part of your face with hair

Side angles are unacceptable

Your hands cannot be visible in the passport photo
---
Baby's Photo Specifications
There are special rules for a toddler's passport photo. So don't worry if you need to make the document for your children, it won't be hard. The specs are the following.
The child should be alone in the photo, adults cannot hold them

The baby must be facing forward

The infant's eyes have to be open

Their facial expression needs to be neutral

The child should keep the mouth close (unless it's a new born)

The photo cannot be blurry

Any objects like pacifiers or toys are not allowed
For more details and tips, read this article on the baby's passport photo requirements
---
---
Nevertheless, you don't need to spend much time taking a picture – the US passport photo can be taken without even leaving your home.
Just find a steady surface to place your camera on, put on suitable clothes, prepare the background using a white bed sheet or a simple white T-shirt, and finally take the photo.
If you are not sure if the photograph you have meets the requirements, use the free online tool from the official website.
---
As you can see, there are lots of rules to remember, but in general, they are typical photo requirements that can be easily followed.
Yet a passport photo is equally important as any other document you submit for an application, so take the photo requirements seriously.
Do not alter the picture digitally – you must not retouch your appearance. In the US passport photo, the background has to be either plain white or white-off.
A photo with a pattern background will not be accepted. Besides, the passport photo of both babies and adults cannot be older than six months.
---
Now you know everything you need for taking a passport photo, so go ahead and put this into practice. Good luck!
---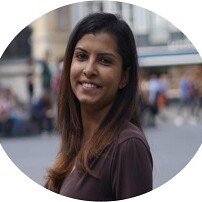 Award-winning Analyst, multi-nominated digital content creator and photographer Lavina Dsouza's words capture stories about culture and tradition mainly through its food and people. She has written and contributed to publications such as The Washington Post, Lonely Planet and Matador Network, to name a few. She is the editor of UntraditionalHumans.com, a non-profit created to share inspiring stories from women of colour who break free from traditions and choose happiness.
She's also a speaker passionate about DEI and champions solo travel. She has collaborated with numerous renowned brands such as Intrepid Travel, TripAdvisor, Travel and Leisure and Adobe, to name a few.
She can be found on Twitter and Instagram.
---
---
---
Some of the links on this post are affiliate links. These do not cost you extra to use, but will help provide Continent Hop with a small commission if/when you purchase through them, to recover some of the costs of running this website and providing free content to help you plan your travel. I appreciate your support!
---