Travel is back, and everyone is looking to get back to travelling. However, due to rising costs, most of us are looking at how to save money on a road trip. If it isn't a road trip, we need sure ways to save money while travelling. If this is you, these tips should definitely help!
Many consider travel as a means to explore new places and put annual leave to good use.
When the pandemic hit, they realised that all of those adventures were not just about getting away – they were also about wellness, giving back and looking after your mental health.
I firmly believe that travel is about so much more than simply picking a place, booking a flight and jetting off. For many, it is about curiosity, being immersed in different cultures, trying new cuisines and taking the time to unwind and to reflect.
These experiences can be had across the globe, whether it's in bustling cities like Lisbon and Madrid, or off the beaten track in Bosnia and Herzegovina.
However, one thing people may have forgotten during the pandemic-induced travel hiatus is that sometimes, you do face certain challenges in such locations.
When I went to Bosnia, local shops had no card machines and the currency was the Convertible Marka.
I had British pounds, American dollars and even Euros, but these were no good. I had to withdraw cash only to realise once I was back in the UK that I was charged 50 BAM (Marka) per transaction (equivalent to about 20 pounds), no matter how small the amount. Sometimes these charges were higher than what I'd withdrawn from a cash machine!
---
These costs all mount up – especially because of the global inflation crisis, which is causing the cost of travel to increase while many people have less money to spend.
Given there is still an appetite to get away and recharge, how is it possible to keep costs down so we're able to reap the benefits that travel offers?
Well, I've teamed up with Starling Bank, which has developed an Interactive Travel Tool that enables you to budget your travel spend on £100 a day and compare the price of travel in the world's top tourist destinations.
Along with this, I'm also sharing my personal top 10 creative ways that you can save money, so you can rest assured in the knowledge that you'll be getting the most out of your well-deserved getaway.
---
Ways to save money while travelling
---
Buy local produce
There's something exciting about stepping into a local store and finding items you never knew existed!
On my travels, I'm always delighted to find new types of cheeses, soups and exotic fruits and vegetables like longan, chikoos, soursop and even a fruit called the Buddha's hand.
These are often nutritious and make for excellent snacking and you can often end up saving money on expensive items such as packaged food, which in most cases is imported.
---
Consider Housesitting
Yes, housesitting is a thing and is becoming a more popular option as people learn about the benefits.
What is housesitting you ask? Usually, when homeowners have pets and either can't afford to put them in catteries or kennels or would rather not, they have someone stay over at their place, and look after the house and the pets in exchange for free accommodation.
While this isn't for everybody if you're on a road trip that'll last months or even a week, this is a unique way to save money and you can get to know the region better. It's easy to get started by using sites like Trusted Housesitters.
---
---
Don't tip your bank
Opting for a bank that doesn't charge fees and offers good exchange rates is so important when travelling abroad. Many people fail to notice that when withdrawing money, they're likely losing money per transaction and also per pound withdrawn.
One of the best ways to avoid being over or unknowingly charged is by having an account with a digital bank such as Starling Bank. Not only does its app offer transparency and control over your spending, but you can also benefit from no Starling fees when using your card abroad. They also keep track of the latest exchange rates, offering you the best value for every transaction.
When using a card remember to always pay in the local currency rather than your home currency when asked which currency you'd like to pay, as again stores or restaurants are likely to charge a higher exchange rate.
---
Consider all accommodation types
If you're going to be travelling for a longer duration, don't rule out hostels and hotels. While many do prefer resorts and even hotels, hostels have come a long way since the backpacker times.
Nowadays, you can get private rooms in hostels that are spacious and quiet for a reasonable price, and more often than not they're cheaper than hotel rooms and sometimes nicer!
If you're travelling solo or are a couple, and you've never visited the destination before, hostels are a great spot for meeting and mingling with fellow travellers in the common areas like bars and rooftops.
Many hostels also organise free walking tours and others,  like Abraham hostels in Israel, also organise classes like hummus making. A great way to get more experience for your money.
---
---
Try the local food and street food!
Places in Europe like Budapest and Greece have an amazing street food scene! The traditional food is amazing with numerous delicious items on offer.
Food is an essential element of visiting a place, and when it's local, it is always more budget-friendly than restaurant chains or those found in the tourist 'square' and other commercial hotspots.
Do your research and ask the locals or the place you're staying for reliable areas and options. If you've planned in advance you can also ask around in local Facebook groups for recommendations.
Usually, street food joints prefer cash so I'd suggest withdrawing some from a reliable local cash machine using a card from a bank like Starling that doesn't charge transaction fees.
---
Carry a water bottle and drink tap water!
It seems basic, but it's amazing how easy it is to forget and how much money can be saved. If you're travelling to Europe and are looking at how to save money then carrying a reusable water bottle is a simple solution. What's more, it's eco-friendly!
Of course in some European cities it's still not safe to drink straight from the tap so be sure to do your research first.
---
Buy food locally before heading to the airport
I've already mentioned buying local produce if you're looking to save money, but what many don't realise is that it also works well when heading to an airport.
While some airports like Istanbul Ataturk have an amazing selection of traditional food,  others that are smaller may not have this. At many airports, food is also stale and overpriced.
Even though it may seem tedious to think about carrying food along while you're pushing luggage, it can pay off!
---
Travel during off-season
If you travel during peak season, not only are you paying a premium for flights and stay, but you're also paying more for attractions and meals.
Why? Many touristy towns like Santorini and Athens price their menus differently. Restaurants can have menus priced differently on cruise days, for example, than on normal days and during off season.
So, if you're able to travel outside of the traditional school holidays and visit destinations out of season, definitely do! The benefits are plentiful; not only will you not have to battle the crowds to enjoy cultural hotspots and recommended restaurants, often you'll also get lovely weather, even off peak.
---
---
Find free things to do and see
Yes, this is possible! As mentioned before, many hostels offer free walking tours, but some cities offer this as well. Berlin is a great example of this.
At the end of the tour, it is your choice to tip the guide depending on the experience. I would always recommend tipping though, they've given up their time after all.
Walking tours aren't the only free option, though, especially in Europe. There are beautiful parks and public attractions, as well as museums and galleries that you can visit for free on certain days. Many apps provide self-guided tours, sometimes with commentary and information about places that you can enjoy free of charge.
In places like Budapest, you can take a walk and find the ruin bars and street art. In Belfast, you can walk around town and find pubs which have original Game of Thrones doors.
There's no dearth of things to do for free even when it's raining! You just have to do some research to plan ahead.
---
Drink at home! or in this case at a hotel!
Nobody can deny that when it comes to visiting a destination, drinks are sometimes more expensive than food. Scandinavia is a good example of this.
If you're someone who's fond of partying, chances are drinks will take up quite a chunk of your travel budget. A few ways to save money on your travels is to buy your own drinks and have it before you head off for dinner in the comfort of your room or B&B.
If that's not your style, in some cities in Europe, especially the UK, there are a few  restaurants that have a BYOB option aka Bring Your Own Booze. They do not serve alcohol but you're able to bring your own tipple of choice.
---
---
Hopefully, some of these tips will help you save money on your travels, so you can start planning more. To help you even further, don't forget to use Starling's travel tool to workout your daily travel budget for your next chosen destination.
Happy travels!
---
FAQs – How to Save Money on a Road Trip
How can I reduce my road trip cost?
Decide how much you are spending on an entire trip and then choose a fuel-efficient car based on that. Plan your route in such a way that there will be lesser or no tolls.
Book a stay where free breakfast is offered. Check for hotels or hostels with kitchens and bring your own groceries to cook simple meals. Carry reusable water bottles and keep on refilling those. Most importantly, travel during shoulder season to avoid increased hotel and tour prices.
What is the cheapest way to travel long distances?
If you have good road connectivity to your destination, then driving a car will be a convenient option. You can share fuel costs with other passengers and drive at your own pace. If you do not mind spending more time travelling, then consider a train or a bus ride.
Taking a flight may not always be an option, but if there are flights, then taking a connecting flight during the off-season may prove to be the cheapest way to travel long distances.
How can I save time on a road trip?
The best (and probably the only) way to save time on a road trip is to ensure you take minimum stops on the way. For that, you need to cover everything you need in one place.
Stopping for gas? Use the washroom, buy snacks or other essentials, and check the vehicle's condition so that you won't need to make another stop for a few hours at least.
How to travel low budget?
The key to travelling low budget is planning. It will give you a chance to book flights, transportation, and accommodation in advance without paying last-minute charges.
Book a place that offers free breakfast or has a kitchen where you can cook. Try to use public transport whenever possible. Most importantly, travel during the off-season.
---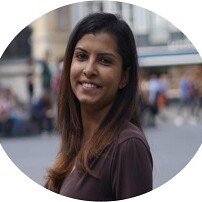 Award-winning Analyst, multi-nominated digital content creator and photographer Lavina Dsouza's words capture stories about culture and tradition mainly through its food and people. She has written and contributed to publications such as The Washington Post, Lonely Planet and Matador Network, to name a few. She is the editor of UntraditionalHumans.com, a non-profit created to share inspiring stories from women of colour who break free from traditions and choose happiness.
She's also a speaker passionate about DEI and champions solo travel. She has collaborated with numerous renowned brands such as Intrepid Travel, TripAdvisor, Travel and Leisure and Adobe, to name a few.
She can be found on Twitter and Instagram.
---
---
This post was put together in collaboration with Starling Bank, however as always all opinions are my own; from tried and tested techniques.
---
---
Some of the links on this post are affiliate links. These do not cost you extra to use, but will help provide Continent Hop with a small commission if/when you purchase through them, to recover some of the costs of running this website and providing free content to help you plan your travel. I appreciate your support!
---