Ghent is a charming town in the region of East Flanders. Cities like Bruges are preferred by many, however, Ghent makes for an ideal weekend getaway. Here's a collection of some of the best Ghent photos I took which cover what this idyllic city has to offer, from street art to food. These images of Ghent will inspire you to add this to your list!
Sometimes people see only what they're told to see. Isn't that mostly how the world works?
In the context of travel, one could be shown the most iconic spots, given a short brief about them and you could still leave feeling 'meh!'
The 'buzz' around a certain place is what appeals to many. They're curious to see for themselves if what they've heard and seen stands true. But, as they say, beauty lies in the eyes of the beholder.
There aren't 'obvious' attractions to rush to in Ghent, but the city exudes a very laid-back, artistic vibe which can be seen from these pictures of Ghent.
Ghent grows on you. You have you take leisurely walks by the river Leie and appreciate hidden cafes. Pop-up shops with smiling faces are eager to beckon you in. The city center is free of vehicles for cyclists to manoeuvre through cobbled paths.
Come Sunday; locals are buzzing to set up flea markets. By night, quirky design installations light up while buildings and monuments are reflected clearly in the river.
New budding street artists get busy translating their thoughts into paint while the smell of waffles slowly drifts through the air. Vendors selling Cuberdons eagerly explain the traditional, local delicacy.
There's craft beer to sample and colourful neighbourhoods to sit back in and then there's hot chocolate to sample. Hot chocolate where baristas directly use Belgian chocolate rather than cocoa.
Here's what to do in Ghent in brief via pictures in case you're still on the fence about this charming city!
---
Ghent pictures to inspire your next weekend break
---
BUT FIRST SOME PRO TIPS TO VISIT GHENT
Allocate at least 3-4 days to explore Ghent. There's ample of street art in Gent, murals and graffiti that you can explore as well
Do invest in a Gent City Card as public transport is included in the price. There's also a boat tour, use of the tram, bike rental for a day included. The more you use, the more you save!
If you're looking to explore more things to do in Ghent and other itineraries, why not visit the Official website for Gent tourism, there's so much info on things to do!
If you're looking for restaurants, Pakhuis is a great spot to get food by the river.
The Krook Cafe inside the city's library is a great spot to get food on a budget food. While you're there do check the architecture out too!
---
---
The architecture in Ghent
The Old Town which also contains the historical city center has the Korenmarkt, Gravensteen, Graslei and Korenlei areas. It is here you will find medieval and historic architecture, traditional restaurants, shops and bakeries.
Mostly a car-free area, the highlight of the old town is the Gothic Saint Bavo Cathedral which contains the Ghent altarpiece. The belfry, Gravensteen castle and the Graslei harbour are located nearby which have the best-preserved architecture in the area.
However, it is the Saint Nicholas' Church that most will remember from their time in Ghent which is located about a 4 minute walk away from the town center.
The city also houses three béguinages, architectural complexes where beguines (religious women who stayed without taking vows).
The beguinages, the belfry and the cloth hall adjacent to it are UNESCO sites.
---
The riverside in Gent
The river Leie runs lazily through these parts making for not just a great walk; be it day or night. During the day, one can see colourful buildings by the river, making for great photo stops.
The buildings on either side help in creating some great reflections at night, which makes Ghent a great location for a romantic weekend getaway.
The Graslei is one of the most scenic waterfronts in Gent's old city center.
---
---
The cultural melange of food
Delicious waffles, gooey Belgian chocolates and chips (French fries) are available in plenty with numerous toppings no matter where you go. If you like mustard, do try the Tierenteyn topping, which is similar to Dijon mustard but with a fiery twist!
However, the first thing you'll notice near the town center in Ghent are carts selling nose-shaped or cone-shaped cuberdons or 'neuzekes', purple jelly-filled candies. You'll also find 'babelutten' ('babblers'), hard butterscotch-like candy here.
The mussels here are world-famous but there are also dishes like Stoverij, a traditional Flemish meat stew made by using rabbit meat and Waterzooi, made usually with fish caught in the rivers of Ghent.
All of these dishes can be washed down with the uncountable number of beers available here, be it fruity or Trappist (abbey beer).
The city of Ghent has the largest number of vegetarian restaurants per capita in the world and the choice and quality of vegetarian food on offer is amazing!
---
---
---
The people in Ghent
Irrespective of the language they speak, the locals in Ghent will go out of their way to make you feel welcome! Be it restaurant suggestions, recommending walks, or organising fairs, you'll never be kept wondering 'what to do next?'!
There's a Sunday flea market held around the canals where you'll find everything from vintage books, unique upholstery to even livestock!
You can always grab some fries to accompany you while you go through all that's on offer here!
---
The street art scene, nature and all the beautiful details
While there are numerous towns like Manchester, Miami and Budapest that have an amazing street-art scene, Ghent is possibly one with the most diverse on offer.
Murals and street-art are spread all around town and not concentrated in a certain area, which makes exploring the city even more fun!
The colours are vibrant and many of the murals have been painted by famous people like Roa in the street-art sector. There's also a whole street full of graffiti called Graffiti Street where the images keep changing often and is full of character!
---
Whether it's a weekend break you're craving or just a short getaway, Ghent with its plethora of offerings will keep you busy!
You could walk down the same street many a time in a couple of days, yet you're sure to find something you missed, maybe a mural, a vineyard hidden behind an Abbey or if you like photography, capture photos of Ghent in a new light. The city will keep you occupied!
A city that stands tall on pillars of culture, gastronomy, history, and art, one that still has a lot to uncover, is what Ghent is, and everyone who visits can do so without stepping on each other's toes – literally!
---
WHAT IS THE CURRENCY IN BELGIUM
The currency in Belgium is the Euro as Belgium is part of the European Union.
ARE GHENT AND GENT THE SAME
Ghent and Gent are the same city in Belgium spelled differently.
HOW MANY DAYS TO SPEND IN GHENT
You need at least a weekend which is two to three days in Ghent. There are numerous festivals happening around the year in Ghent which also makes it ideal to spend more time in this charming city.
HOW TO GET TO GHENT FROM LONDON
The easiest way to get to Ghent from London is to fly to Brussels and then take the train to Ghent. You could also take the Eurostar from London St. Pancras to Brussels. It takes about 30 minutes from Brussels to get to Ghent
HOW FAR IS BRUGES FROM GHENT
---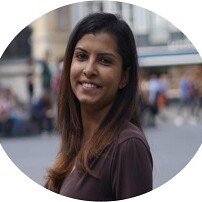 Award-winning Analyst, multi-nominated digital content creator and photographer Lavina Dsouza's words capture stories about culture and tradition mainly through its food and people. She has written and contributed to publications such as The Washington Post, Lonely Planet and Matador Network, to name a few. She is the editor of UntraditionalHumans.com, a non-profit created to share inspiring stories from women of colour who break free from traditions and choose happiness.
She's also a speaker passionate about DEI and champions solo travel. She has collaborated with numerous renowned brands such as Intrepid Travel, TripAdvisor, Travel and Leisure and Adobe, to name a few.
She can be found on Twitter and Instagram.
---
---
---
HERE'S MORE PHOTO DAIRIES FOR INSPIRATION!
---
Some of the links on this post are affiliate links. These do not cost you extra to use, but will help provide Continent Hop with a small commission if/when you purchase through them, to recover some of the costs of running this website and providing free content to help you plan your travel. I appreciate your support!
---