A traditional Chinese holiday that is observed by people everywhere, Chinese New Year is the first day of the month in the traditional Chinese calendar.
Although the magical occasion is celebrated pretty much everywhere on earth, you can't beat experiencing it in all its glory on the continent of Asia, especially in Thailand. For many people, that's exactly what they aspire to do when planning a variety of travel-related escapades for the future.
Chinese New Year is typically a 16-day celebration that revolves around traditional cuisine, a party atmosphere, some truly memorable parades, and some epic fireworks.
Here's how to celebrate Chinese New Year if you're in Thailand!
---
Chinese new year in Thailand
---
Chinese New Year is a major holiday in Thailand, particularly in cities with a sizable Chinese population, such as Bangkok, Phuket, and Chiang Mai. Millions of people around the world, including Thais, celebrate it. The festival ushers in the new lunar year and is a time for family reunions, feasting, and remembering ancestors.
The festival is prominently featured in various media that people can access everywhere too, from movies like Everything Everywhere All At Once and been mentioned in games like Dragon Ball and the Wu Long slot, the latter a fun Chinese-themed product that includes dragons and a range of other features that are associated with the nation's celebrations, such as a giant temple and fireworks.
Given the exposure Chinese New Year has had with a variety of audiences, it's therefore entirely understandable for people to want to experience the celebrations in the flesh.
If you'd like to experience Chinese New Year in China, keep in mind that you will need a Chinese visa for which you will have to apply in advance.
---
History of Chinese new year in Thailand
---
The Chinese community in Thailand has a long and rich history, and cultural practices such as Chinese New Year celebrations have been passed down through generations.
For trade and economic opportunities, Chinese immigrants first arrived in Thailand during the Sukhothai period (1238-1438) and the Ayutthaya period (1351-1767). They eventually settled in various parts of Thailand and established communities that became known as 'Chinatowns'. These Chinatowns, such as Yaowarat in Bangkok, Phuket's Old Town, and Chiang Mai's Warorot Market area, have become vibrant cultural hubs where Chinese traditions and customs, including Chinese New Year, are preserved and celebrated.
The rich cultural heritage of Chinese immigrants who have integrated their traditions with local Thai customs has influenced Chinese New Year celebrations in Thailand. The festival is widely celebrated and is regarded as one of the most important events for the Thai-Chinese community.  The Thai-Chinese community now accounts for approximately 14% of the population and has had a significant impact on Thai culture and cuisine.
The incorporation of Thai customs and rituals into Chinese New Year celebrations in Thailand is an important aspect of the festivities. During Chinese New Year, for example, it is common for Thai-Chinese families to visit local temples to offer prayers and make merit, as it is believed to bring good luck and blessings for the coming year. Red lanterns and other traditional Chinese decorations adorn temples, creating a unique blend of Chinese and Thai cultural elements.
In Thailand, Chinese New Year is celebrated not only by the Thai-Chinese community but also by the general Thai population. It has become a part of Thailand's diverse cultural fabric, with participants of all ethnicities and backgrounds taking part. The Chinese New Year celebration in Thailand reflects the country's cultural diversity as well as the harmony between different ethnic communities.
Chinese New Year celebrations in Thailand have grown in popularity in recent years, thanks to increased tourism promotion and government support. During the festival, many local governments organise special events and activities such as parades, cultural performances, and fireworks displays to promote tourism and highlight the Thai-Chinese community's unique cultural heritage.
---
---
Traditions during Chinese new year in Thailand
---
During the Chinese New Year in Thailand, there are many activities and customs that are observed. The celebration typically lasts for 15 days, and each day has its own unique significance and customs. Here are some of the most common ones.
---
Reunion Dinners
The reunion dinner is a significant custom during the Chinese New Year. On the day of the reunion dinner, family members gather at the home of the eldest or most senior member of the family. Family members toast each other with glasses of wine or other beverages during the reunion dinner.
The reunion dinner provides an opportunity for families to reflect on the previous year and set goals for the coming year. On the eve of the new year, families exchange red envelopes filled with money, known as 'ang pao', as a symbol of good luck. Traditional Chinese dishes such as dumplings, fish, and chicken are typically served for dinner, and are thought to bring prosperity and good fortune.
Many Chinese families in Thailand practise the custom of 'sweeping the dust'. This entails thoroughly cleaning the house to sweep away bad luck and make way for good luck in the new year. The door and windows are decorated in red, and the house is filled with flowers, fruits, and other auspicious symbols.
---
---
Lion and Dragon Dances
Lion and dragon dancing is another important Chinese New Year tradition, especially in areas with large Chinese populations such as Bangkok's Chinatown, Phuket, and Hat Yai. The lion and dragon are symbols of strength, power, and good fortune, and the dance is thought to ward off evil spirits and bring good fortune.
The lion dance is a symbolic performance in which two dancers wear lion costumes, one controlling the head and the other controlling the body. The lion moves around in a series of acrobatic and symbolic movements to the beat of a drum and cymbals during the dance. The dance is intended to bring good fortune and luck to the businesses and households that the lion visits.
The dragon dance, on the other hand, involves a group of dancers carrying a long dragon costume on poles. The dragon is made of fabric and is intricately designed and coloured.
The dancers raise and lower the dragon in a series of coordinated movements to create the illusion of a dragon flying through the air. The dragon dance is intended to bring good luck, prosperity, and power to the businesses and households visited by the dragon.
Lion and dragon dances are frequently accompanied by fireworks, drumming, and other traditional Chinese performances in Thailand. The dances are typically performed in the days preceding Chinese New Year as well as during the festival's grand finale. To bring good luck and prosperity in the New Year, many businesses and households will invite lion and dragon dance troupes to perform in front of their homes or offices.
---
---
Traditional Chinese Food
Food is an important part of Chinese New Year celebrations, and many traditional dishes are associated with the festival. Nian Gao, or sticky rice cake, is one of the most popular dishes.
This cake is made of glutinous rice and sugar and is said to bring good fortune and luck. Fish, which represents abundance, and dumplings, which are shaped like gold ingots and represent wealth, are also popular dishes.
The streets are lined with food stalls selling traditional Chinese dishes like dumplings, spring rolls, and baozi. Many Thai-Chinese fusion dishes are also available, such as Pad Thai with Chinese sausage and crispy pork belly.
---
Red Envelopes
The Chinese New Year is also a time for gift-giving and gift-receiving. Children and unmarried adults are given red envelopes filled with money, known as 'ang pao', as a symbol of good luck. It is also traditional to give oranges, which represent wealth, and mooncakes, which are sweet pastries filled with lotus paste or red bean paste.
---
Where to Experience Chinese New Year in Thailand
---
Here are some of the best places in Thailand to celebrate the Chinese New Year.
Yaowarat, Bangkok's Chinatown
Bangkok's Chinatown is the heart of Thailand's Chinese community and one of the best places to celebrate Chinese New Year. Yaowarat's streets are decorated with lanterns, red banners, and other traditional decorations during the festival.
There are numerous traditional Chinese shops and markets where you can purchase souvenirs and sample delectable Chinese street food. The grand parade, which includes lion and dragon dances, traditional music performances, and fireworks, is the festival's highlight.
Another popular festival activity is visiting the many temples in Yaowarat. Many worshippers come to offer prayers and offerings to their ancestors, and the temples are beautifully decorated with lanterns and flowers.
---
---
The Old Town of Phuket
Phuket's Old Town is another popular destination for Chinese New Year celebrations in Thailand. The Chinese community has left an indelible mark on the town's history and culture. Traditional cultural performances are held in the streets and temples, and there are many street vendors selling delicious Chinese street food.
The dragon and lion dance parade, performed by local Chinese associations, is the festival's main event. Large, colourful dragons and lions dance to the beat of drums and cymbals, accompanied by acrobatic performers dressed in traditional Chinese costumes, in the parade.
The parade begins at the Jui Tui Shrine and proceeds through the streets of the Old Town, stopping at various points to entertain the crowds.
---
Chinatown in Chiang Mai
Chiang Mai's Chinatown, located in the Warorot Market area, is a popular place to celebrate Chinese New Year. Many cultural performances, such as lion and dragon dances, traditional music performances, and martial arts demonstrations, take place during the festival.
These vibrant and lively performances are thought to bring good fortune and luck for the coming year. The performances are usually held in the streets of Chinatown, in front of temples and other important landmarks.
The night sky is illuminated by spectacular fireworks displays that last several minutes. The fireworks represent the expulsion of evil spirits and the welcoming of good fortune.
---
Nakhon Sawan, Thailand
Nakhon Sawan is a small town in central Thailand with a sizable Chinese population. Chinese New Year celebrations in Nakhon Sawan typically begin a few days before New Year's Day and last about two weeks.
Various cultural and traditional performances, such as lion and dragon dances, acrobatics, and martial arts demonstrations, mark the festival.
These performances take place throughout the city, including temples, streets, and public squares. The festival concludes with a grand finale featuring a spectacular fireworks display. The fireworks show is usually held on the last day of the festival and draws a large crowd.
---
---
Things to keep in mind
While Chinese New Year celebrations in Thailand are generally safe and enjoyable, you should be careful about the following things.
Crowds: During the festival, Chinatown and other popular Chinese New Year celebration areas can become extremely crowded. Take extra precautions to avoid pickpockets and other opportunistic criminals.
Traffic: Chinese New Year celebrations can cause traffic congestion in some areas, particularly near temples and popular tourist attractions. Plan ahead of time for your transportation and be prepared for potential delays.

Fireworks: Although fireworks are a traditional part of Chinese New Year celebrations, they can also be hazardous. Be aware of your surroundings and stay away from fireworks displays. When using fireworks, adhere to local regulations and guidelines.

Scammers: As with any large-scale festival or event, scammers may try to take advantage of unsuspecting attendees. Be wary of anyone offering counterfeit goods or attempting to solicit money from tourists.

Local customs and traditions must be respected: Chinese New Year is a significant cultural event for Thai-Chinese communities. Make sure to respect local customs and traditions, dress appropriately when visiting temples or other cultural sites, and refrain from engaging in potentially disrespectful behaviour.
---
In Thailand, Chinese New Year is a vibrant and exciting festival that brings together Chinese and Thai cultures in a one-of-a-kind celebration of tradition, culture, and community.
A lively atmosphere, colourful decorations, delectable food, cultural performances, and a variety of traditional activities such as lion and dragon dances, temple visits, and fireworks displays can be expected.
Chinese New Year in Thailand is a time of joy, blessings, and celebration that brings people together in a shared cultural experience, whether you're a local or a visitor.
---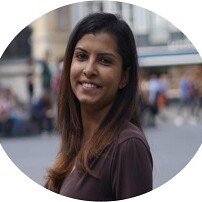 Award-winning Analyst, multi-nominated digital content creator and photographer Lavina Dsouza's words capture stories about culture and tradition mainly through its food and people. She has written and contributed to publications such as The Washington Post, Lonely Planet and Matador Network, to name a few. She is the editor of UntraditionalHumans.com, a non-profit created to share inspiring stories from women of colour who break free from traditions and choose happiness.
She's also a speaker passionate about DEI and champions solo travel. She has collaborated with numerous renowned brands such as Intrepid Travel, TripAdvisor, Travel and Leisure and Adobe, to name a few.
She can be found on Twitter and Instagram.
---
---
---
Some of the links on this post are affiliate links. These do not cost you extra to use, but will help provide Continent Hop with a small commission if/when you purchase through them, to recover some of the costs of running this website and providing free content to help you plan your travel. I appreciate your support!
---